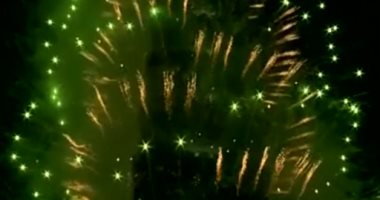 Taiwan celebrated New Year 2021 by launching 16,000 fireworks, in a celebration that lasted for 5 minutes, as it was one of the first countries to bid farewell to 2020 and welcomed the new year 2021.
The huge celebration witnessed the launch of 16,000 fireworks, and a number of doctors and health workers were honored for their role in combating the Corona virus, according to the Al Ain website.
https://fb.watch/2JMK-hlI3T/
While Australia welcomed the New Year 2021 with huge celebrations with fireworks, the public missed it due to the Corona pandemic, and fireworks set off from the famous Opera House, and the colors of the rainbow lit the sky, in Sydney.
On the other hand, Dubai is preparing to receive the year 2021, and it is expected that the celebration time will witness people taking to the streets, which prompted the authorities to place special posters on the road floor to emphasize the need to adhere to social distancing, to prevent the spread of the coronavirus pandemic.
And a video clip monitored the division of the streets of the city of Dubai, through posters that allow people to be inside a private space that is far from the other at the level required to achieve social distancing, according to Sputnik.
And the world has already begun to celebrate the New Year 2021, whose first moments began in New Zealand, as New Zealand was the first country to celebrate the launch of fireworks, in a harsh atmosphere, while adhering to severe precautionary measures and restrictions to prevent the spread of the coronavirus pandemic.
On the other hand, this year's New Year's Eve will be very different from previous years in the whole world, especially in light of the outbreak of the second wave of the emerging corona virus, but it is clear that New Zealand still maintains the same rituals, whether using fireworks displays in the city of Auckland, Or allow crowds to gather across New Zealand, after it came close to eradicating the Coronavirus with a strict and early lockdown plan.