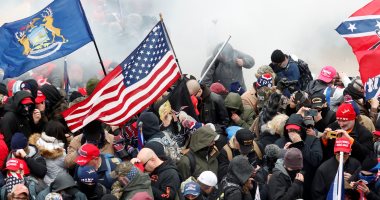 The office of the mayor of Pinellas County, on the coast of central-western Florida, said Saturday that Adam Johnson, a supporter of outgoing US President Donald Trump who broke into the podium of US House of Representatives Speaker Nancy Pelosi, was arrested during the Trump supporters' attack on the (Capitol) building last Wednesday.
The photo released by the police at the moment of his arrest showed the absence of a broad smile on his face when a picture was taken of him while he was sitting on the platform of the Speaker of the House of Representatives, in conjunction with Trump's supporters storming the Congress building to protest the approval session of Joe Biden's victory in the elections that took place last November.
According to the police document, Johnson is 36 years old and lives in Tampa (Florida), where he was arrested Friday, and he will be "brought to trial", while the document did not mention the charges against him.
Washington witnessed an unprecedented day in its history when Trump supporters stormed the Congress building during Biden's presidential approval session, leaving four dead and dozens wounded.
In the wake of events in Congress, Trump finally declared that he accepted losing the election and promised a "orderly transition" of power.