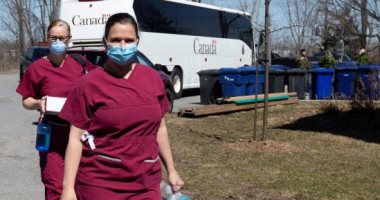 Today, Tuesday, the Canadian province of Ontario recorded nearly 2,300 new cases of (Covid-19) virus, the highest number recorded on a daily basis since the start of the pandemic.
Today's data also revealed worrying increases in hospital admissions, and positive test results. Twenty more Ontario residents died from the emerging coronavirus infection, bringing the total number of deaths in the province since March to 3,992.
For its part, the chief medical advisor at Health Canada said that things are on the right track to approve a second Covid-19 vaccine very soon.
Dr. Supria Sharma says things "look positive" for a vaccine from the US biotechnology company Moderna, but there are still some prominent manufacturing documents required before a decision is made. Sharma explained that the continuous reviews of other two vaccines are not confirmed, as it is likely that the "AstraZeneca" company will need more study before the Canadian Health Authority can make a decision, while the review of the vaccine candidate for "Johnson & Johnson" is still in the very early stages.
The Canadian Ministry of Health approved the "Pfizer-Biontech" vaccine on the ninth of December, and the first doses began to arrive in Canada on Sunday.