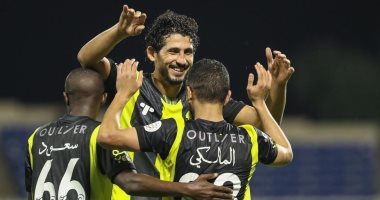 Al-Ittihad Jeddah professional team, in its ranks, the Egyptian star Ahmed Hegazy, will play a strong confrontation when it is a heavy guest against its Al-Nasr counterpart, in the Saudi Clasico, scheduled to be held at 7:30 pm today, Saturday, at the "Mrsoul Park" stadium, at the top of the Saudi League competitions. Prince Mohammed bin Salman Professionals Cup League for the current season 2021-2022, and the match is scheduled to be broadcast on the Saudi Sports Channel SSC1 HD.
Al-Ittihad will enter the match tonight while it is at the top of the Saudi League standings, before the start of the competitions for this round, where the team has 9 points from 4 matches collected from 3 victories and one defeat.
On the other hand, Al-Nassr occupies eighth place in the standings table with only 6 points out of the total 3 matches he has played in the Saudi League so far, where he achieved two victories and received one defeat.
Ittihad Jeddah seeks to beat Al-Nassr in order to maintain the top spot in the Saudi League, and to continue its string of victories in the last three matches in the competition, which was preceded by a 1-0 defeat against Al-Fayhaa in the opening round of the current season.
Ittihad Jeddah swept its guest, Abha, 6-1, in the match that was gathered at the "Radiant Jewel" stadium in Jeddah, as part of the fourth round of the Saudi Professional League.
Two matches are scheduled to take place in the fifth round of the Saudi League today, where Al Hilal will meet with Al-Ittifaq at half past five in the evening, and Al-Hazm will host its rival Abha at six to a quarter.