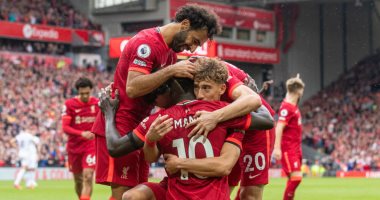 The professional Liverpool team, in its ranks, the Egyptian star Mohamed Salah, will be a heavy guest against his counterpart Leeds United, in the confrontation scheduled to take place at 5:30 pm today, Sunday, at the "Island Road" stadium, in the fourth round of the English Premier League competition "Premier League" of the season. The current season is 2021-2022, and the match is scheduled to be broadcast on beIN Sports 1 HD Premium.
Liverpool enters tonight's match and is ranked fifth in the English Premier League table before the start of the round matches, as it has 7 points collected from two victories and one draw, while Leeds comes in the fifteenth place with two points from 3 matches, where it tied two matches and lost one match.
The Reds are seeking to regain the tone of victories in the Premier League again, after they stumbled in a 1-1 draw against its guest Chelsea at "Anfield" in the top of the third round of the English Premier League.
Liverpool, led by coach Jurgen Klopp, is looking for its third victory this season in the English Premier League, as it overcame Norwich City by three goals in the first round, and then beat Burnley 2-0 in the second round.
Egyptian star Mohamed Salah hopes to increase his scoring record in the match tonight, after he participated with Liverpool in 3 matches in the Premier League, with a total of 270 minutes, where he contributed 4 goals, by scoring two goals and making the same.
Dutch defender Virgil van Dijk appears ready to participate with Liverpool against Leeds after suffering a minor injury during the Netherlands team match against his Turkish counterpart, while the Reds are missing the Brazilian Roberto Firmino and the Japanese Minamino..