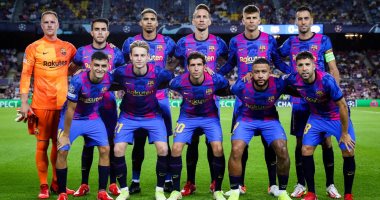 Barcelona is looking for its first victory in the Champions League for the current season 2021-2022, when it is a guest of the Portuguese Benfica, at nine in the evening, at the "Al-Nour" stadium in the second round of the fifth group of the group stage of the current season 2021-2022, and from The match is scheduled to be broadcast on beIN Sports 2 HD Premium.
Benfica vs Barcelona

Barcelona is at the bottom of the Champions League group E table, without any points, after it opened its campaign by falling to a humiliating defeat against Bayern Munich 3-0, at the "Camp Nou".
Benfica is in third place with one point collected from a negative tie with Dynamo Kiev in the first round, while Bayern Munich, which meets at the same time with Dynamo Kiev, leads the standings with 3 points.
Benfica vs Barcelona

Barcelona returned to victories again in La Liga, after winning an easy victory over its guest Levante, 3-0, in the match that was held at the Camp Nou in the seventh round of the Spanish League, to occupy sixth place in the standings after raising his score to 12 Point.
UEFA appointed 46-year-old Italian referee Daniele Orsato to officiate the Benfica match against Barcelona.
Italian referee Daniele Orsato managed one match for Barcelona in the Champions League, and that was in the 2016 edition, when he defeated Celtic, Scotland, 2-0..
Benfica vs Barcelona

Orsato led three matches for Benfica, winning one and losing two, winning (2-3) over Anderlecht in the 2012-2013 season, and losing in the 2018-19 season, 5-1 in Munich against Bayern in the group stage, Then he lost 2-0 in Frankfurt in the second leg of the European League quarter-final against Eintracht Frankfurt.