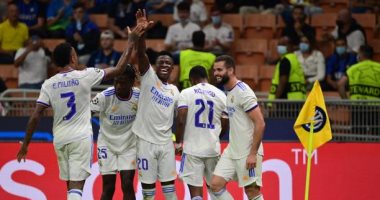 Real Madrid will host Real Mallorca today, Wednesday, at the "Santiago Bernabeu", as part of the sixth round of the Spanish League championship for the current season 2021/22.
Real Madrid vs Mallorca match date

The match between Real Madrid and Real Mallorca will be held at ten in the evening, Wednesday.
Dani Carvajal will miss 4 Real Madrid matches initially, and it may extend to 6, and it will be against Real Mallorca, Villarreal, Sherif Tiraspol and Espanyol, with the possibility of his absence against Athletic Bilbao and Shakhtar..
Real Madrid vs Mallorca

Real Madrid will try hard to prepare the player to face Barcelona on October 24 at the Camp Nou stadium.
Carvajal was injured during the match against Valencia, and he missed Real Madrid last season in 36 official matches.
The expected formation of Real Madrid for the match is as follows:
Goalkeeper: Courtois.
Defense: Nacho, Alaba, Militao, Carvajal.
Midfield: Modric, Casemiro, Valverde.
Attack: Vinicius, Benzema, Hazard.
Real Madrid vs Mallorca

The two teams have faced each other in 58 matches before, Real Madrid won 37 matches, while Real Mallorca won 10 matches, and 11 matches were tied between them.
Real Madrid snatched a fatal victory over Valencia in the last round, to top the table with 13 points.
Real Madrid is at the top of the Spanish league standings, with 13 points, two points behind runner-up Atletico Madrid, who has 11 points, while Valencia comes third with 10 points.
Real Madrid vs Mallorca

On the other hand, Real Mallorca is in eighth place in the table with 8 points, after a goalless draw against Villarreal in the previous round..
Mallorca is looking to correct the path and get back on the right path, so it will try in various ways to stop the bleeding of points and continue to compete strongly for the advanced positions..