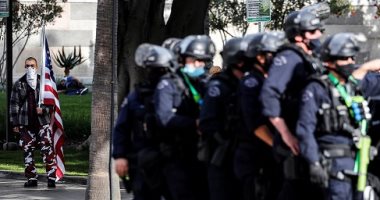 Washington police announced the death of 4 people in Congress on Wednesday, 3 due to a medical emergency and one with a gunshot, and 52 others were arrested.
In the meantime, dozens of National Guard members equipped with riot control equipment deployed to keep protesters away from the Congress building in Washington.
For her part, US House Speaker Nancy Pelosi announced that House members will resume counting the electoral college votes to confirm the outcome of the November presidential elections, as soon as the Congress building is secured after pro-Trump rioters stormed the building..
She added that this decision was taken after consultations with other congressional leaders and contacts with the Ministry of Defense (the Pentagon), the Department of Justice, and Vice President Mike Pence..
For his part, former US President George Bush said that the violence in Washington is disgusting and unfortunate, commenting on the storming of the US Congress building, adding: This is how the election results are objected to in the banana republic and not in a democratic country.
Earlier, demonstrators who supported the US President, Donald Trump, stormed the courtyards of Congress where the Biden victory was ratified.
Biden won the elections with a majority of 306 votes against 232 in the electoral college for each state separately, and with a margin of more than seven million ballot papers in the popular vote nationwide. But the Republican president still claims falsely that there is widespread fraud and that he is the winner.
State and federal reviews have refuted Trump's allegations of massive election fraud even as the increasingly desperate legal effort by his campaign and allies regarding the right to cancel elections has failed in several courts all the way to the U.S. Supreme Court, and Biden is set to take office. On January 20 this year.