Tedros Adhanom Ghebreyesus, Director-General of the World Health Organization, expressed his support for health care workers who are at their work during the Christmas celebrations, and Tedros sent a message on his Twitter account, saying: "I greet all the health workers and staff who have been working tirelessly throughout This holiday season, away from their families, to fight the Coronavirus and keep the world safe. "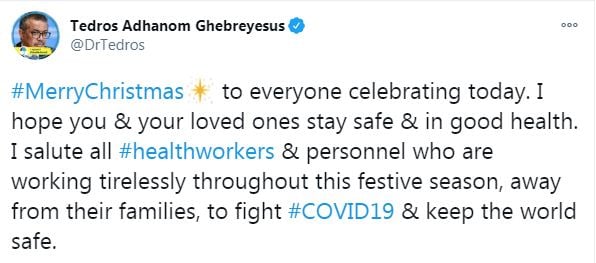 Director of the Health Organization on Twitter
The Director-General of the World Health Organization, Tedros Adhanom Ghebreyesus, said on Friday that the recent progress in the field of vaccines to prevent Covid-19 is positive, but the organization is concerned that this has led to an increasing perception that the pandemic is over.
"Progress in vaccines is giving us all a boost, and we can now see the light at the end of the dark tunnel. But the World Health Organization is concerned about the growing belief that the Covid-19 pandemic is over," he added.
Tedros explained that the pandemic still has a long way to go and that decisions made by individuals and governments will determine its course in the short term and when it will end.
He said: "We know that it was a difficult year and that it exhausted people, but in hospitals that are operating at their maximum capacity or beyond their capacity, the situation is more difficult as it can be."
Before that, the Director of the World Health Organization said that there is a risk of crushing the poor and the vulnerable during the scramble to obtain vaccines for the Corona virus, adding that there is an urgent need for $ 4.3 billion for a global plan to share vaccines, during a virtual press conference in Geneva.
Dozens of countries have signed the global vaccination plan known as (Kovacs) developed by the World Health Organization and the Global Alliance for Vaccines and Immunization (GAVI) to provide vaccine doses to countries that cannot otherwise afford it.
To date, it has raised $ 5 billion, including more than 500 million euros ($ 600 million) from Germany.