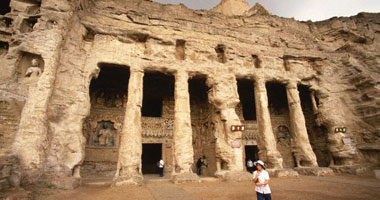 Chinese archaeologists on Saturday unearthed the ruins of a 5,500-year-old pentagonal structure in Taiyuan City, north China's Shanxi Province.

The city's Institute of Cultural Relics and Archeology said – according to the Chinese news agency – that it is believed that the ruins belong to the middle and late periods of Yangshao culture.

Bi Jingrong, a researcher with the institute, announced that a total of 98 ash pits, 11 pottery kilns, two houses and six tombs of the Ming Dynasty (1368-1644) and Zheng Dynasty (1644-1911) were discovered at the site, in addition to a large number of pottery pieces in the house, including This includes pottery kettles filled with sand, gray pottery pots filled with sand, red pottery pots and pointed-bottomed bottles, pointing out that the most important discovery is a five-sided house built on an area of ​​about 32 square meters.

Bi Jingrong held that this discovery holds great academic significance for the study of Neolithic cultural features in the Taiyuan Basin and prehistoric cultural exchanges in Taiyuan and its surroundings.