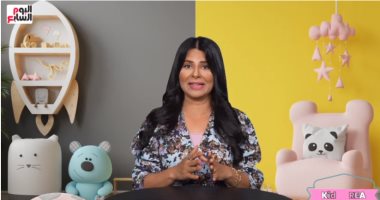 Once children grow up and begin to perceive things around them, the first thing that catches their attention is the mobile, and they try in various ways to get their parents' mobile to play with it or watch some cartoons and children's programs on it.
Many parents suffer from the problem of their children using mobile phones, as they spend a lot of time in front of the computer or mobile screen, which may affect them negatively.
To clarify the impact of children's use of mobile phones for long hours, Professor Amal Ghaly, educational consultant and certified positive education trainer, speaks in a new episode of the programkids area".
Amal Ghaly says: "Children before the age of two are forbidden to see mobiles and television. Try to replace them with toys, because sitting in front of the television or the Internet affects the child's speech and skills and deprives him of knowing his talents and abilities."
In order to reduce the negative impact of the mobile on children, Amal Ghaly said: "It is important that you have time to see with your son the content that he sees and discuss about it, and set times to use the mobile, and prevent him from eating time, and try to make time in the day for you as a family with some without mobile."
And she continued, "Provide your son with alternative activities and set a specific time to use the mobile, which is within an hour or two a day, and tolerate grogginess and crying in the first place, but be sympathetic to your child, and be sensitive to it. And stay away from words that might hurt him."