The Egyptian international Mohamed Salah, the Liverpool star, leads the Premier League's top scorer before the start of the sixth round of the Premier League competitions today, with 4 goals equally with the Portuguese star duo Bruno Fernandes, Manchester United midfielder, and West Ham United striker Michel Antonio.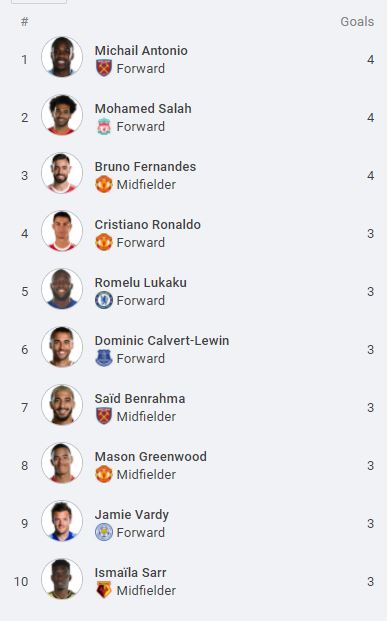 The sixth round of the English Premier League begins on Saturday afternoon with fiery confrontations that will bring Chelsea together with Manchester City, as well as Manchester United hosting Aston Villa.
English Premier League top scorers

Mohamed Salah scored a goal in Liverpool's precious victory over its guest Crystal Palace, with three goals without return, in the match that brought the two teams together, last Saturday, at "Anfield", as part of the fifth round of the English Premier League competitions for the current season 2021-2022..
Mohamed Salah scored Liverpool's second goal in the 78th minute, after following the corner kick, to raise his score to 4 goals this season in the Premier League..
English Premier League top scorers

The English Premier League top scorer is ranked fourth, with a number of players with 3 goals: Chelsea striker Romelu Lukaku, Everton striker Dominic Calvert-Lewin, Manchester United young striker Mason Greenwood, Watford winger Ismaila Sarr, Liverpool star Sadio Mane, in addition to La Demarai. Everton's Gray, West Ham's Algerian Said Benrahima, Manchester United's Cristiano Ronaldo and Leicester City's Jamie Vardy.
English Premier League top scorers

Two goals were scored by a large number of players, most notably: Pablo Fornales of West Ham, Diego Jota of Liverpool, Danny Ings of Aston Villa, and Spain's Ferran Torres of Manchester City..
3 clubs in the English Premier League, Liverpool, Manchester United and Chelsea, have managed to maintain their unbeaten record so far, after 5 rounds in the Premier League..
Chelsea continued to share the top spot in the English Premier League with Liverpool and Manchester United, after winning a 3-0 victory over Tottenham Hotspur in the match that was held at the latter's stadium..