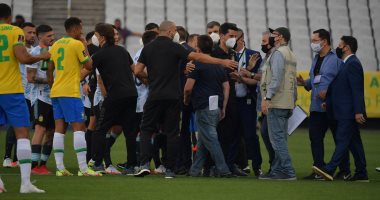 The International Football Association (FIFA) issued a statement today, Sunday, evening, to suspend the events that took place in the match between Argentina and Brazil at the Arena Corinthians in Sao Paulo, as part of the sixth round of qualifiers for the South American qualifiers for the 2022 World Cup.
And FIFA said in a brief statement through its official account on the social networking site "Twitter": "FIFA can confirm that, after a decision by the match referee, the Brazil-Argentina match in the qualifiers for the 2022 World Cup has been suspended," adding, "More details will be announced." right on time".
And the South American Football Confederation "CONMEBOL", issued an official statement about the crisis in the match, saying in its statement, "By the decision of the match referee, the match organized by FIFA between Brazil and Argentina for the World Cup qualifiers was stopped."
The statement added: "The referee and the match observer will submit a report to the FIFA Disciplinary Committee, which will determine the steps to be followed. These procedures strictly comply with the current regulations," explaining, "The World Cup qualifiers are a competition belonging to FIFA. All decisions related to its organization and development are made by it."
For his part, Claudio Tapia, president of the Argentine Football Association, confirmed that what the Argentine national team witnessed with its Brazilian counterpart is very unfortunate for football.
In his statements to the official website of the Argentine Football Association, Tapia said: "What happened today is unfortunate for football, it is a very bad picture. Four people entered to stop the match and CONMEBOL asked the players to go to the dressing room."
"You cannot speak of any lie here because there is health legislation under which all South American competitions play. The health authorities of each country have agreed to a protocol that we have been fully adhering to," the AFA president added.