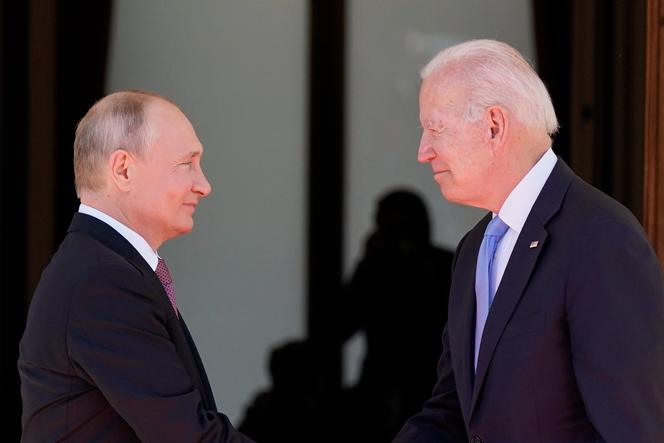 THEIt cannot be said that they weren't warned, but Westerners are incorrigible naïve. On February 10, 2007, when Vladimir Putin took the podium of the Munich Security Conference, they were in heaven – especially the Germans, who were hosting the event. Europe and the United States are picking up the pieces of their relationship damaged by the Iraq war, whose dramatic shock wave is not yet evident. The Russian president is then in his second term, believed to be his last. He agreed to come and speak to the defense and diplomacy elite that meets every year in the Bavarian capital. Everything is going for the best in the (almost) best of all worlds.
Read also
Joe Biden promises, once again, a response from the United States and its allies in the event of an invasion of Ukraine by Russia
In the front row, a very dapper Angela Merkel, Chancellor for two years, is all smiles, alongside US Senators John McCain (1936-2018) and Joe Lieberman. Then Putin takes the floor and it's a cold shower. We're here to talk frankly, he warns. For thirty minutes, he asserts his grievances, denounces "The unipolar model" American, accuses NATO of expanding " up to [ses] borders " despite of "Guarantees" allegedly provided in 1990, calls for a new "Global security architecture". In the audience, faces lengthen, some put their heads in their hands. "We left there stunned, remembers a French participant. We realized that the post-Cold War parenthesis had closed. "
This Munich moment was indeed considered a turning point. How then can we explain that the conditions that Vladimir Putin has just imposed on the United States and NATO, so reminiscent of his grievances of 2007, have so surprised the West? We have analyzed a lot the motivations of Vladimir Putin in the sudden revival of East-West hostilities in recent weeks; we lingered less on the strange improvidence American. The first to sound the alarm at the beginning of November 2021 on the concentrations of Russian troops on the Ukrainian border, the Americans were however caught off guard by the Putin maneuver and seem, since, to navigate on sight.
The choice of the pivot to Asia
There is a first explanation: Washington, for several years now, has been looking elsewhere. China has become his main, if not his only foreign policy priority, from Obama to Trump and from Trump to Biden. Seven years after the Munich speech, Russia's annexation of Crimea and, in 2014, its invasion of Donbass could have served as a wake-up call. But the choice of the pivot to Asia was already made. To the rejection of any form of American intervention in Ukraine was added, we analyze in Paris, the desire to let France and Germany lead an attempt to settle the Ukrainian conflict with Kiev and Moscow within the framework of the "Normandy format".
You have 50.4% of this article left to read. The rest is for subscribers only.