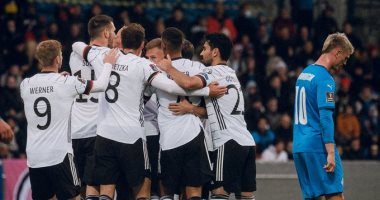 The German national team won a big victory over its Icelandic counterpart, 4-0, in the meeting that brought the two teams together this evening, Wednesday, at the "Lawardalsvolor Stadium" in Iceland, as part of the sixth round of the tenth group in the European qualifiers for the 2022 World Cup in Qatar.
Germany took the lead early in the 4th minute through Serge Gnabry, and Antonio Rudiger added the second scorer at the 24th minute of the match.
In the second half, Leroy Sane boosted the goals of Mannschaft in the 56th minute, before Timo Werner scored the fourth goal in the 88th minute of the match.
The formation of the German national team was as follows: Goalkeepers: Neuer / Defense: Rudiger, Zule, Kerrer, Kimmich / Midfield: Goretzka, Hoffmann, Gundogan / Attack: Leroy Sane, Werner, Gnabry.
With this result, the German team strengthened the table of the tenth group standings with 15 points, combining 5 victories and a loss, while Iceland occupies the fifth and penultimate place with 4 points.
The German national team defeated Armenia 6-0 in the last round, while Iceland drew 2-2 with its guest North Macedonia.