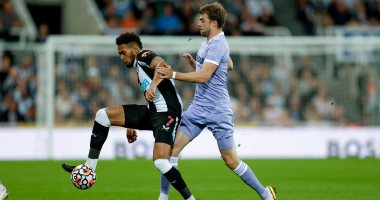 Yesterday, Friday, a few matches were held in various stadiums in the world, most notably the confrontations of the five major European leagues.
The goals of Friday's matches in the world's stadiums were as follows:
English Premier League goals

Newcastle United 1 – 1 Leeds United
The positive tie was settled 1-1 against Newcastle United and its guest, Leeds United, in the match that brought the two teams together, on Friday evening, at "St James' Park", in the opening of the fifth round of the English Premier League "Premier League" for the current season 2021-2022..
Brazilian Rafinha advanced to Leeds United in the 13th minute from a ball raised from the right front, which the Newcastle goalkeeper misjudged to land in his own goal, which is the player's second goal this season.
The young Frenchman, Alan Saint-Maximin, managed to score the equalizer for Newcastle United in the 44th minute with high skill, after he passed the Leeds players and hit the ball crawling to the right of the Leeds goalkeeper, which is also his second goal this season.
Spanish league goals

Celta Vigo 1-2 Cadiz
Italian league goals

Sassuolo 0 – 1 Torino
The Turin team defeated Sassuolo 1-0 in the match hosted by the Mapei Stadium on Friday evening, as part of the fourth round of the Italian Football League.
The match was on its way to a tie, but Marco Piazza, a player for the Turin team, had a different opinion and scored his team's goal and the only match (s 83).
German Bundesliga goals

Hertha BSC 2 – 1 Gruetter Fürth
Hertha Berlin defeated its guest, Grouter Fruet, in the fifth round of the German Football League.
Branimir Harjuta scored the first goal for Groyter Fruet in the 57th minute, before Jürgen Eklenkamp equalized for the hosts in the 61st minute.
Maximilian Boyer, by mistake, gave Hertha Berlin the winning goal in the 79th minute.