Violence erupted in the streets of the American capital, Washington, after extreme right-wing groups clashed with counter-demonstrators in the wake of a rally organized by conservatives to protest against the victory of US President-elect Joe Biden in the elections, according to the British newspaper "The Guardian".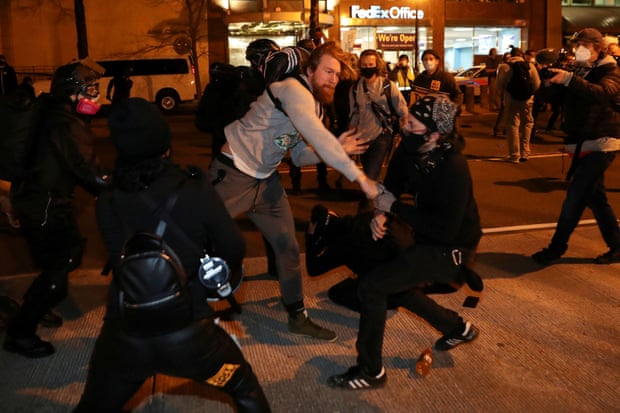 Demonstrations in Washington
Troubles erupted as darkness fell, she said, and crowds began to disperse following a largely peaceful demonstration on Saturday by Trump supporters who claimed without evidence that the November 3 election was marred by fraud..
Groups of pro-Trump and anti-Antifa protesters clashed in the downtown streets, and although police used pepper spray on members on both sides, protesters regrouped and violence continued intermittently..
Four people were taken to hospital with stab wounds with life-threatening injuries, according to the Washington Post, which quoted a spokesman for the capital's fire department, Doug Buchanan. Police said 23 people were arrested.
An estimated 200 members of the Proud Boys, a violent extremist group, joined the rallies earlier on Saturday near the Trump Hotel in the capital. Mixing with church groups urging the faithful to participate in "marches" and prayer rallies for the defeated president, the Proud Boys band wore combat uniforms and bulletproof vests, and carried helmets and hand signals used by white nationalists.
They shouted insults at the rival demonstrators in Antifa and burned the flags of black lives, but the police succeeded in dispersing the factions until evening.