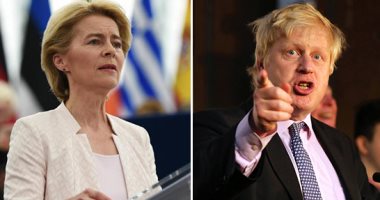 The British newspaper "The Guardian" said that London and Brussels have taken a step forward towards concluding a trade and security deal after Brexit, after Boris Johnson and Ursula von der Leyen agreed to "move forward" and ordered the resumption of talks in Brussels..
The prime minister downplayed expectations after the phone conversation with the president of the European Commission, and asked the cabinet to prepare for exit without an agreement when the transition period ends within three weeks..
In Brussels, however, the Commission informed European Union embassies that "progress is being made" and that "the coming days will be important." In a statement, von der Leyen described the discussion with Johnson as "constructive".
The leaders' phone call at noon, Brussels time on Sunday was set to be the point at which a "firm decision" would be made about the prospects for a deal, with Johnson saying Friday that it was "very, very likely" that the talks would end in failure..
And Foreign Minister Dominic Raab said in television interviews Sunday morning that there is a "high hurdle" that must be reached to continue negotiations beyond this weekend, adding that they need a change in policy from the European Union..
Johnson declined to comment on the progress made but said he would not "pull back", saying "I fear we are still far from some major things, but where there is life, there is hope. We will keep talking to see what we can do." You walk away from conversations. "
Johnson added that he wanted to involve German Chancellor Angela Merkel and French President Emmanuel Macron in the talks, but the Commission rejected that again, pointing out that the Commission is very determined to keep the negotiations the way they were done between us and this is good. "" The most likely thing now is, of course, that it should be. We have to prepare for the terms of the World Trade Organization [منظمة التجارة العالمية] And, in Australia's terms, we've made huge preparations for four and a half years … maybe more intensely in the last two years.
Johnson added, "I think the UK should keep trying. I think that's what people in this country want me to do. We'll keep trying and we'll try with all our hearts and be as creative as possible. But what we can't do is compromise that fundamental nature of what is going on around it." Brexit. "