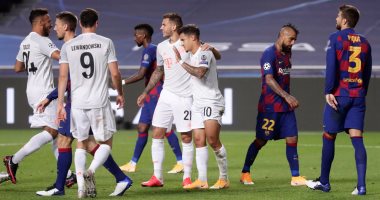 The German team Bayern Munich outperforms its Spanish rival Barcelona in the previous confrontations that brought the two teams together, before the upcoming meeting between them, scheduled for Tuesday evening, at the Camp Nou, in the first round of the group stage of the European Champions League for the current season 2021-2022.
Barcelona and Bayern Munich

The statistics published by the official website of Bayern Munich revealed that the previous results confirm the superiority of the Bavarian team over its Catalan counterpart in the European championships, as Bayern achieved 7 victories compared to two wins in favor of Barcelona, ​​between which two matches ended in a draw.
Bayern tied the first confrontation with Barcelona in the 1995-1996 season, in the semi-finals of the European Union Cup, with two goals each, before winning the second leg with two goals against a goal.
Barcelona vs Bayern Munich

Bayern Munich's most prominent victory came in the history of its confrontations with Barcelona in the previous season's edition of the Champions League, as the Bavarian giant achieved a landslide victory on that historic night that will remain engraved in the memory of Bayern fans for many years, with a score of 8-2 in the quarter-finals in Barcelona. Lisbon, Portugal (the playoffs were played in one match and not in the home and away system, starting from the quarter-finals).
Barcelona vs Bayern
Barcelona won only two wins and they were at home against Bayern Munich, the first with four goals without return in the 2008-2009 season, and a clean three during the 2014-2015 season.
For his part, German midfielder Thomas Muller said that it was unfortunate that Argentine Lionel Messi left Barcelona, ​​​​which the Bavarian team is facing, and Muller said in statements published by German media, "It is unfortunate that Messi is no longer in the team. Playing against a team with Lionel Messi It gives him an extra boost because we all know his accomplishments."
Barcelona and Bayern

"I have to admit that now I can't evaluate Barcelona. We will undoubtedly face a different team without Messi," Muller added.
"It is possible that in the absence of Messi, they might use another player who does more defensive duties. I don't know what awaits us. In any case, we will play a game on a great stadium against a great club."