The "Met Gala" fashion party was held yesterday evening, Monday in New York, after it was canceled last year due to the spread of the new Corona virus, and many celebrities were keen to attend with their husbands and friends, and their outfits were elegant and other strange, and in this context, we review the most famous looks Cables at the Met Gala yesterday, according to Insider.
The looks of the most famous cables at the "Met Gala" party 2021
Brooklyn Joseph Beckham and Nicholas Peltz
Brooklyn model Joseph Beckham, accompanied by actress Nicola Peltz, appeared in classic looks at yesterday's party, as Beckham wore a traditional tuxedo suit from Valentino, and his fiancée chose a semi-transparent, sleeveless pink dress studded with delicate crystals, and added pink gloves and dangling diamond earrings.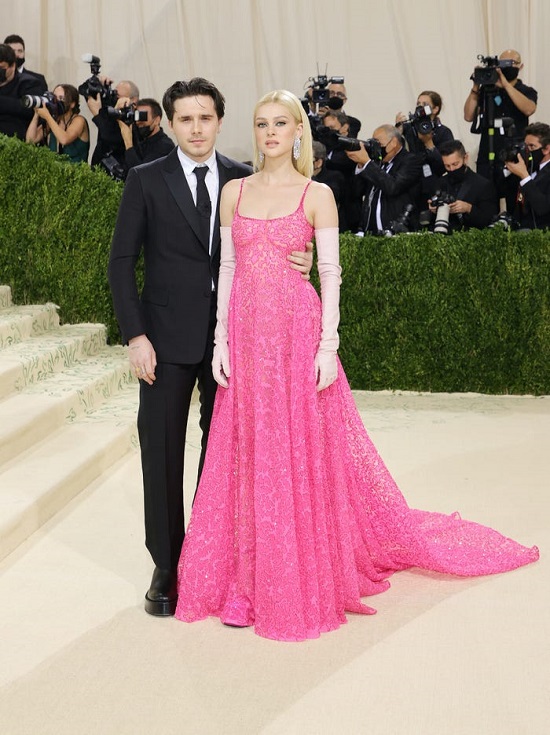 Brooklyn Beckham and Nicola Peltz
Chance the Rapper and Kirsten Corley

Rapper Chance the Rapper and model Kirsten Corley attended the party yesterday, dressed in black. A cap resembling the Red Wings hockey team's cap, it bore his signature "3" cap.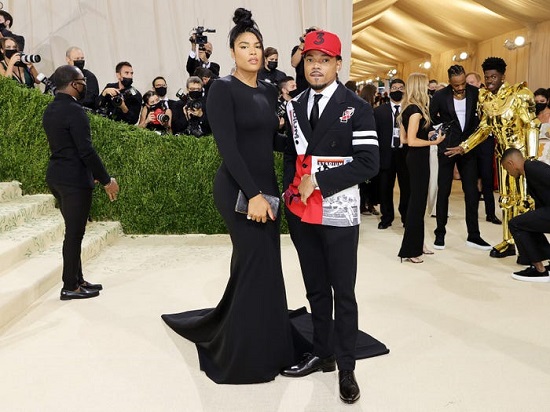 Rapper and Kirsten Corley
Kit Harington and Rose Leslie
Harrington walked the red carpet in Saint Laurent's white tuxedo and black tie, with his wife Rose in a neon yellow Oscar de la Renta strapless dress and tulle skirt.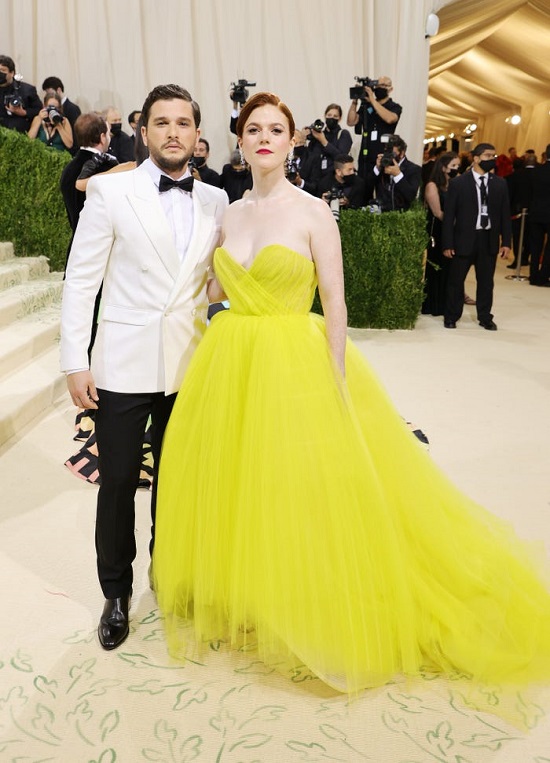 Kit Harington and Rose Leslie
Aisha and Stephen Curry

Ayesha Carey wore a crystal-encrusted, belted, thigh-high dress. Stephen, on the other hand, wore a bejeweled one-shoulder black tuxedo to match his wife's dress, and the couple designed their outfits from Atelier Versace.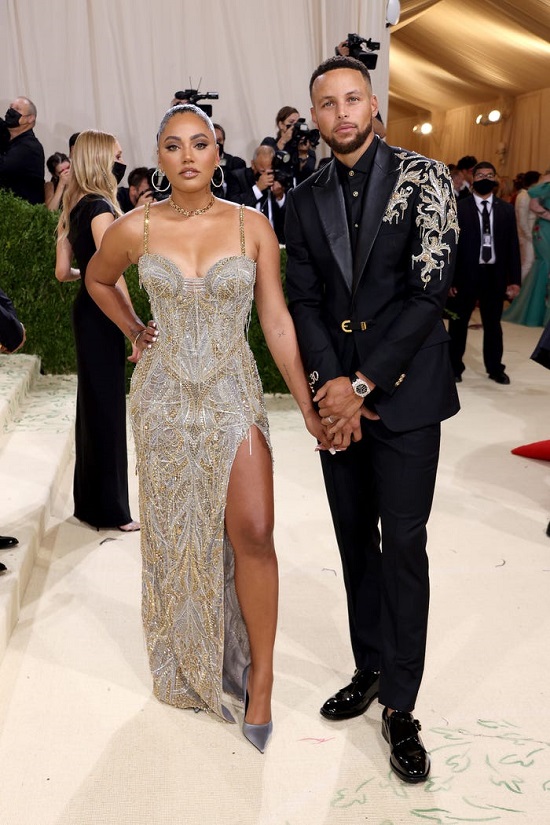 Aisha and Stephen Curry
Hailey and Justin Bieber

Model Hailey Bieber wore a strapless black dress with a scalloped collar and embellished with diamonds, by Saint Laurent, when she attended the party with her husband, Justin, who was wearing a black suit jacket with wide pants, and white sneakers covered with colorful graphics.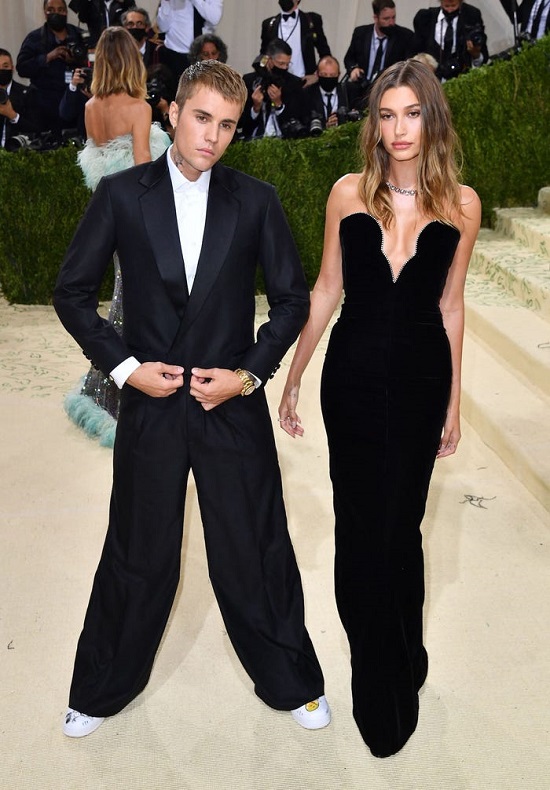 Justin Bieber and Hailey
ASAP Rocky and Rihanna
Rapper Rocky wore a colorful quilt-like blanket over a black suit, while Rihanna wore a black mermaid coat with an oversized ruffle that extended across the chest and around the neck, and appeared to be wearing a crystal hoodie under a black beanie.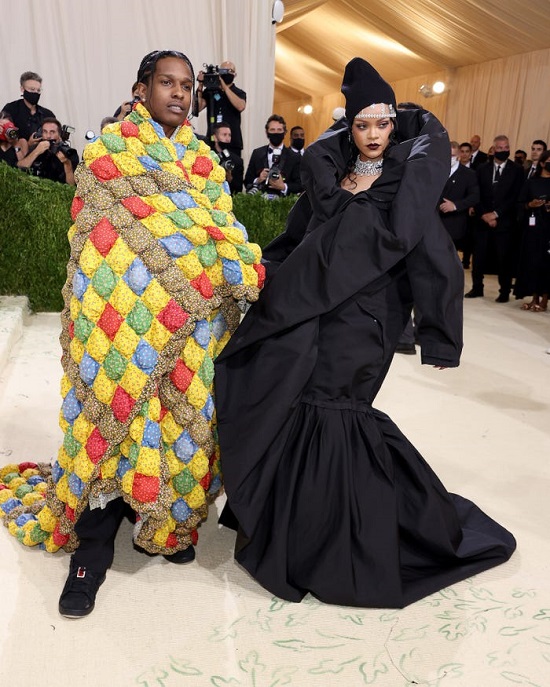 Rocky and Rihanna
Naomi Osaka and Kordai
Tennis player Naomi Osaka wore a dressLouis Vuitton Inspired by Haitian and Japanese culture referring to her ethnic heritage, she was strapless with a colorful print, she wore a black halter robe on the top of her head, while Corday opted for a tan coach coat, black pants and square sunglasses.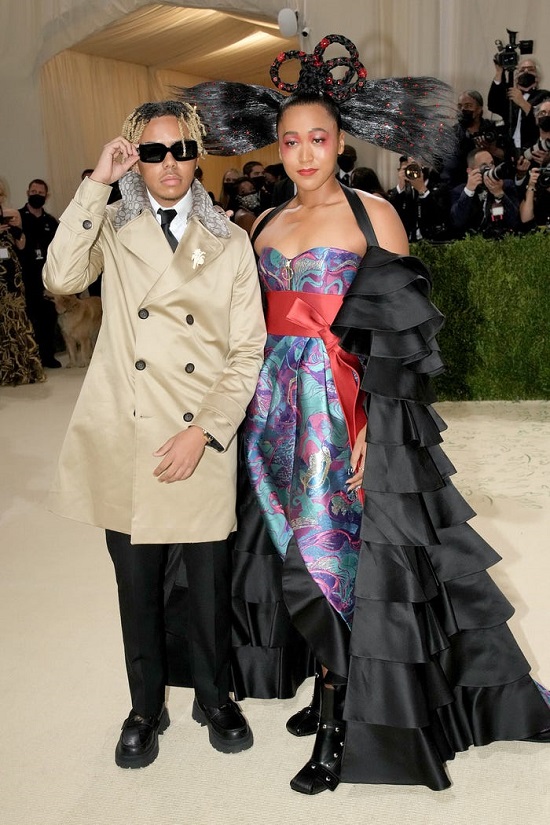 Naomi Osaka and Kordai