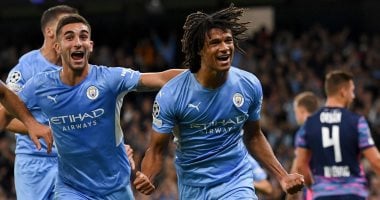 Manchester City's central defender, Nathan Ake, revealed his father's death a few minutes after scoring his first goal in the Champions League during the German match against Leipzig.
Nathan Ake opened the scoring goal for Manchester City in its victory over Leipzig on Wednesday evening with six goals for three in the first round of the Champions League group stage, "Champions League".
Aki revealed, on his official account on the social networking site "Instagram", the death of his father, a few minutes after he scored the first "Citizens" goals in the Leipzig match.
The Dutch defender wrote: "The last weeks were among the most difficult in my life, my father was very ill and there was no possible treatment for him. I was lucky to support my fiancée, my family and my family. Yesterday was difficult because I scored my first goal in the Champions League a few minutes before my father passed away. ".
Nathan Aake concluded his post by saying, "Seeing me playing made him feel proud and happy always."
And the English team, Manchester City, swept its German counterpart Leipzig 6/3 in the match that took place between them on Wednesday evening, at the "Al Ittihad" stadium, in the first round of the first group of the European Champions League.
Manchester City (the title holder), started the new season of the English Premier League, with 3 victories and a loss, to sit in fifth place with 9 points.