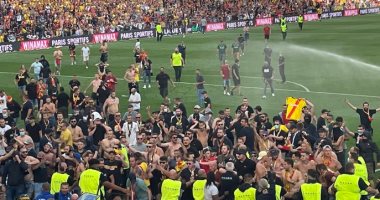 The mass riot has become a major crisis facing the French League this season, after the incident of the Nice match and its guest, Marseille. Today, the match between Lance and its guest, Lille, witnessed a new crisis by storming the fans of Lance to the pitch between the two halves of the meeting.
The fans of Lance went down to the grounds of the "Boulert Delice" stadium, after the end of the first half of the meeting, which brings the two teams together in the sixth round of the French League, and it ended in a goalless draw.
Lance fans headed to the stand of the Lille fans, who came to support their team, before the riot police intervened to separate the two fans.
The French newspaper, L'Equipe, reported that the referee of the match was in consultation with the representative of the French League in order to make the final decision on whether to complete the match or not.
The French League decided to re-match Nice with its guest, Marseille, and hold it on a neutral stadium without the presence of the public, after the unfortunate events that took place at the Allianz Riviera stadium, the stronghold of the Nice team, on August 22, as part of the third round of matches. French league.
The Disciplinary Committee also decided to deduct two points from Nice's balance (one of which is suspended), and Alvaro Gonzalez of Marseille was suspended for two matches, in addition to the suspension of captain Dimitri Payet for one match.
The crisis began when Nice fans threw empty bottles at Marseille players and Dimitri Payet, while he was taking a corner kick in the 75th minute of the match.