The face of Sadiq Khan, Mayor of the British capital LondonThanks for those who adhere to the guidelines and precautionary measures to prevent corona virus, by following the rules and applying them, explaining that this is considered very difficult, as many could not see their loved ones.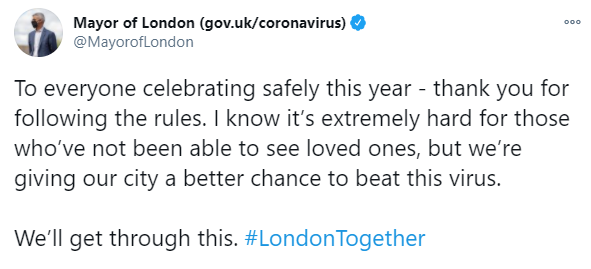 Sadiq Khan, Mayor of London
Sadiq Khan, Mayor of London, wrote on his Twitter account: "To everyone celebrating safely this year, thank you for following the rules. I know that it is very difficult for those who have not been able to see their loved ones, but we are giving our city a better chance to overcome this virus. This is London together. "
This comes after the disclosure of a report issued by the Strategic Advisory Group of Experts SAGE, Which is a major advisory group to the World Health Organization in vaccination work, to the rise of the infection and death curve inside Britain, during Christmas celebrations, after the United Kingdom recorded 28 thousand and 507 cases of infection, despite the imposition of strict restrictions on about 38 million people, for fear of The new mutated strain of the Coronavirus spread, according to what was reported on the website dailymail.
The report confirmed that the number of injured people in England rose from 300 thousand and 567 injured to 500 thousand and 481 injured, especially after many areas in the southeast of England were placed under severe restrictions and comprehensive closures, in an attempt to combat the spread of the mutated strain that appeared in southern England last November.