Elephants are among the animals that are keen to live in gatherings in the forests. She takes care of her young so that they can rely on themselves, but sometimes the elephant herd can separate and one of its members becomes alone..
Monitor a video The moment a baby elephant got lost and separated from its mother, in a wilderness in Yunnan Province, southwest China, according to the Russian Sputnik agency.
6-month-old baby elephant abandoned by the mother in SW China's Yunnan was rescued by the local authorities. The poor baby was in terrible health condition when it was taken in. After treatment, the elephant regains its energy. pic.twitter.com/A0hW9d4ByV
— Beautiful China (@PDChinaLife) August 30, 2021
And the local authorities were able to save the baby elephant, noting that he was suffering from health problems when he was found, and that the baby elephant was found The elephant that was found is 6 months old, but is in good condition after it was rescued.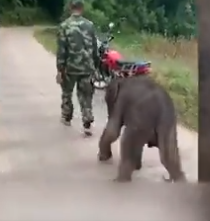 little elephant

elephant rescue
On the other hand, the camera lenses spotted a cute shot of a little elephant, having fun, while sliding playfully down a muddy slope on his knees in a Chinese rainforest, and the fun elephant was photographed in a valley Xishuangbanna Wild Elephant In Yunnan Province, southern China, according to the British Daily Mail.
In the short clip, the young Asian elephant named Yuxiong uses the rainforest floor as a place to slide and quickly navigates down the slopes, and "Yishuang" is the fifth elephant born in the breeding center of the park in the 900-acre valley, which is home to hundreds of giant mammals..
In the 16-second footage, the baby elephant is seen kneeling on the slope of the hill before sliding onto the ground to the bottom. The shot was filmed while the staff was taking the elephant outside for field training.