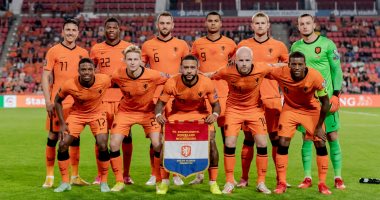 The Netherlands will face a difficult confrontation when it hosts its Turkish counterpart, in the confrontation scheduled to take place at 9:15 pm today, Tuesday, in the sixth round of European qualifiers for the 2022 World Cup.
The Dutch national team, led by coach Louis van Gaal, enters the match tonight and is ranked second in the table of Group G with 10 points from 5 confrontations, where it achieved 3 victories, one draw, and lost one match.
Turkey is at the top of the standings with 11 points from 5 matches also in the European qualifiers, where it managed to achieve 3 victories in addition to two draws and managed to maintain its unbeaten record so far.
The Dutch national team defeated its guest Montenegro 4-0, during the meeting that brought the two teams together last Saturday evening at the "Philips" stadium in Eindhoven, in the fifth round of Group G in the group stage of the European qualifiers for the 2022 World Cup in Qatar.
In the last round, the Turkish team defeated Gibraltar, with three goals, at the "Victoria" Stadium.
For his part, Dutch coach Louis van Gaal recently expressed his satisfaction with the big win over Montenegro 4-0. Norway, in Norway we started well, but the match was not good, but the 70 minutes after the opening was good."
He added: "We have outnumbered Montenegro completely, we have had a little time and we still have to get to know each other well, but if you can beat such a defensive team 4-0, it gives a boost to the next game."
He continued: "I saw Depay as if he was traveling in a race, I think he ran eleven kilometres, well, not many strikers do that, and Frenkie de Jong played very well, that's what I told him."