Everyone knows the Nobel Prize, which is a group of annual international awards awarded in several categories in recognition of academic, cultural or scientific achievements, but few of us know the "Nobel Prizes for Folly", which were awarded, yesterday, Thursday, in an online ceremony, in which scientists from 24 countries won On the awards, according to what was published by improbable.
These awards are given to scientific research that makes people laugh and then makes them think, and according to the organizers, there have been many useless or ridiculous scientific research, according to what was reported by the Russian "Sputnik" agency.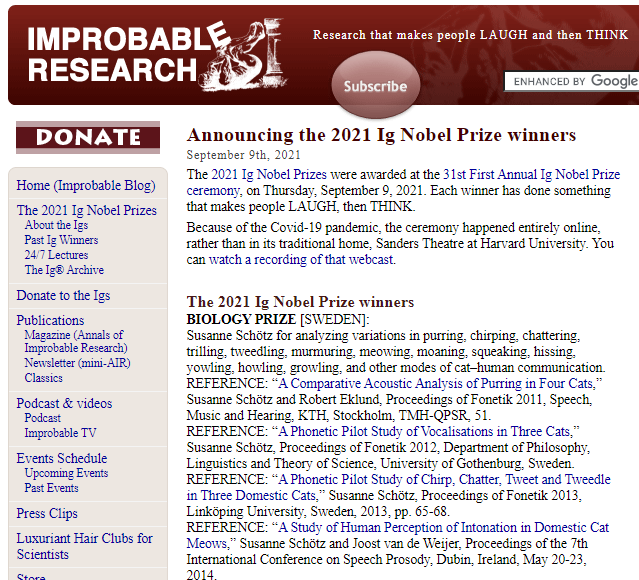 Nobel Prizes for Foolishness
In the "Peace Prize" category, scientists from the United States of America won the award, as they found after experience that the beard in men can protect against blows to the face..
The "medicine prize" was awarded to scientists who proved that orgasm is as effective in relieving nasal congestion as decongestants, and in the field of economics, the prize was won by European scientists who proved that the degree of obesity in politicians is linked to the level of corruption in the state..
In the field of chemistry, researchers from Germany, Britain, Greece and Australia won the prize, as they analyzed the chemical composition of air in cinemas to see if there was a link between smells emitted by the audience and scenes of violence, antisocial behavior and drug use shown in films.
While the "Ecology" award was given to scientists from Spain and Iran for their use of genetic analysis in studying the types of bacteria found in discarded pieces of frankincense on sidewalks in various countries..
The Ig Nobel Prize has been held since 1999 and is awarded in 10 areas, some nominations coincide with the Nobel nominations, the rest are appointed each year separately, and the winners receive prizes from the hands of Nobel laureates in different years.