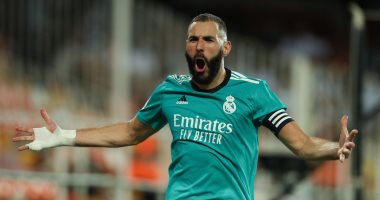 French star Karim Benzema, Real Madrid's Spanish striker, tops the list of players who contribute the most goals in the five major European leagues in the current football season 2021-2022.
Karim Benzema scored the killer goal for Real Madrid against Valencia, in the exciting match that brought the two teams together yesterday evening, Sunday, in the fifth round of the La Liga competition.
The French Karim Benzema raised his score to 5 goals in the top scorer list in the Spanish League, with a goal difference from the Brazilian Vinicius Junior, the runner-up with 4 goals.
Benzema tops the list of the most participating goals in the major leagues in the old continent, according to the statistics published by the "Opta" network, which specializes in statistics and records.
Benzema contributed 11 goals with Real Madrid in the Spanish League this season, where he scored 6 goals and assisted 5 others during his participation in only 5 matches, so that the French star achieved a perfect start with the royal in La Liga.
The list of players who contributed the most goals in the five major European leagues this season, as follows:
11 goals / Karim Benzema (6 goals, 5 assists)
10 goals / Erling Haaland (7 goals and 3)
7 goals / Robert Lewandowski (7 goals, no assists)
7 goals / Mikel Antonio (4 goals, 3 assists)
7 goals / Kylian Mbappe (4 goals and 3 assists)
7 goals / Florian Wirtz (3 goals, 4 assists)
7 goals / Paul Pogba (did not score or make 7)