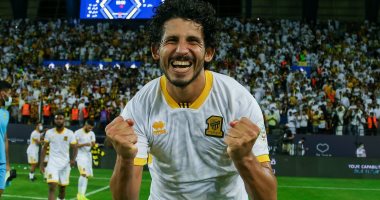 Al-Ittihad team, in whose ranks the Egyptian international Ahmed Hegazy is playing, will lure Al-Ahly in the match that will be held at 7:30 pm today, Friday, at Prince Abdullah Al-Faisal Stadium in the "Jeddah Derby", as part of the seventh round of the Prince Mohammed bin Salman Cup for Professionals "Saudi League" Professionals" for the current season 2021 / 2022.
Al-Ittihad enters the match at the top of the Saudi Professional League standings with 13 points collected from winning 4 matches, drawing 1 and losing the same, scoring 15 goals and receiving only 5.
While Al-Ahly is in the twelfth place in the Saudi Professional League table, with 5 points, collected from a tie in five matches, one loss, scoring 6 goals and receiving 8 as well..
Ahmed Hegazy has previously participated in the Jeddah derby twice, winning one and drawing in the other and has not received any defeat during his participation with his club Al-Ittihad..
The two teams meet today for the 27th time in the history of their confrontations in the Saudi Professional League since the 2008-2009 season.
Al-Ahly excels in the number of victories out of 26 matches that brought the two teams together, as it managed to win 11 matches against 7 victories for Al-Ittihad, while they tied in 8 matches..
Al-Ahly players scored 40 goals against 30 for Al-Ittihad, and the two largest results recorded were in favor of Al-Ahly (4/1) and (4/2) in the 2015-2016 and 2016-2017 seasons..
As for the league level with all its names, the two teams met 94 times, Al-Ittihad won in 31 games, compared to 30 for Al-Ahly, and drew 33.
Al-Ahly did not succeed in winning the last two matches against Al-Ittihad last season, as the first leg ended with a federal victory that was absent for more than 8 seasons, while the return match ended in a 1-1 draw at the reserve Al-Jawhara Stadium.