Isaac Bashevis Singer was born in Poland and lived there until 1935, when he moved to the United States. He is one of the greatest storytellers of the 20th century. He is the son and grandson of rabbis and his two brothers also cultivated literature: Israel Yehoshua Singer and Hinde Ester Singer, the older sister, who published under the name of Esther Kreitman, the last name of her husband; They were all excellent authors. They wrote in the Yiddish language and in Spain Isaac's books had been translated from English until the two translators of this book made it possible to transfer his works directly from Yiddish to Spanish. He was awarded the Nobel Prize for Literature in 1978.
Although far from his native homeland, he dedicated himself to telling the life of the Jewish community in Poland or in New York. He was a formidable creator of social environments; His stories about the world of Jewish families created a human universe whose influence, like that of his contemporary Henry Roth, has been very important in the development of the great American Jewish narrative (Bernard Malamud, Philip Roth, Saul Bellow…) .
the seducer It is a unique book in the whole of his work. It is not a dramatic novel like all of his, but rather, an extraordinary thing, a comedy, specifically what is known as a "sitcom". The author tells the story of Hertz Mínsker —son of a notable rabbi— who presumes to be an intellectual although in reality he is a gossip adept at Freud who always carries with him a portfolio full of books and manuscripts and from whom a masterpiece is expected. His knowledge of the Talmud, his ability to quote passages from the Zohar, his knowledge and his glibness have fascinated Morris Kalitser, a Jew living in New York who has made a fortune in real estate and supports Hertz. Throughout the first part of the novel the relationship between the two predominates.
But Hertz Mínsker is a seducer who attracts as many women as he appears on his sexual horizon and jumps from one to another or combines several, and all this creates a very problematic bad conscience. He lives with Bronie, a Polish woman, very beautiful, although very upset at having left her family in the Warsaw ghetto under Nazi horror. He has a passionate relationship with Minne, the wife of Morris Kalitser, his protector, and lives with Bronie in a room in the apartment of Bessie Kimmel, a lady dedicated to spiritualism, with whom he reluctantly collaborates; in a seance, he meets Miriam, the "spirit" that appears in the sessions, who will also be seduced by Hertz. The situation changes when Morris discovers that Hertz is sleeping with Minne. Morris whips himself, decides to cure his pain with religion and rejects lovers and Hertz is left without financial support and the rebound affects the various female relationships that Hertz accumulates; he is a man who cannot resist the attraction of the women he crosses paths with.
The real subject of the novel is a portrait of rootlessness and guilt that affects everyone equally in a story full of troubled sinners.
But Singer, a great creator of lives, shows beneath the hilarious narration a dramatic background that tempers it towards a clear satire of the way of being of the Jewish community in all its characters (many more than those mentioned) making the story sprout a tender human quality that admirably places the reader between laughter and compassion. In reality, the real subject of the novel is a portrait of rootlessness and guilt that affects everyone equally in a story full of troubled sinners. The entrances and exits of characters, the grotesque suspense and the finesse of humor would be filmed at will by a Billy Wilder remembering his Central European origin.
Isaac is a realistic writer who dominates the narrative framework like no other. He weaves the stories together with exceptional narrative power. The range of protagonists and secondary is overwhelming, insurmountable. Jewish writers are distinguished by their mastery of orality, which is what makes them natural storytellers. There is no book by Singer that does not show the quality of a storyteller, a master of character creation and the suggestive complexity that resides in the human heart.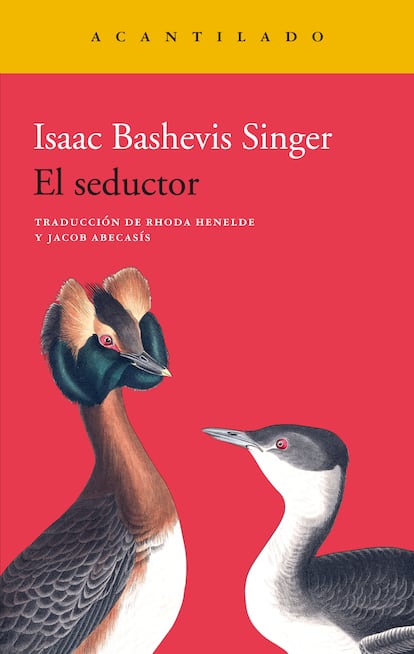 the seducer
Author: Isaac Bashevis Singer.
Translation: Rhoda Henelde and Jacob Abecasís.
Editorial: Cliff, 2022.
Format: tapa blanda (336 pages, 22 euros).
You can follow BABELIA on Facebook y Twitterthe apuntarte here to receive our weekly newsletter.