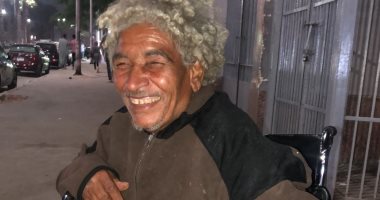 "The Seventh Day" TV broadcast live from Haram Street with Mrs. Fayza, the woman whose feminine features were hidden by time after leaving the house, and the street became the only bosom in which she felt.
Fayza said in her interview with "The Seventh Day", "My apartment and I went to the country in Menoufia after the death of my husband, and I stayed for a month in the country, but I was not comfortable and I did not want to make problems for my brother and his wife, so I walked again and began to go to places where I sit after my daughter abandoned me because her husband gave her good for me. And between him, and she chose her husband and I went down the street.
And she continued, "Although my daughter chose her husband, but very sad for her, and I myself was living with each other, even if I did not have to live with her, but I felt that I was dear to my daughter, but her husband came out more expensive than me, and after I walked in her role, and myself we go back to live with each other."
She explained: "I was a worker working at the Oncology Institute and I walked after the age of 60, after that life deceived me and more after the death of my husband and I visited many places, all of them in the street, but I was always neglected by the children who were present and they always stole my money, so I walked and sat at the civil registry, the most place. Well, they are the ones who take care of me and help me."
She tells: "My life in working days was better and better, but after my pension came out, my apartment changed on Saturday and I went to the street, but I love the street in it and forget, and I love people, and I sat next to the registry because it is the closest place to me, and I was coming to renew the card to take the pension myself. I live in an apartment I do not want a nursing home, nor do I want anyone to control me. Self-rule is a beast. I have the street more merciful than anyone controlling me."
She ends her speech by crying for her husband and for her life when she reached him after her husband's death, and says I do not want anything other than a pilgrimage and an apartment, and someone who reveals my legs, I do not know how to move except in a chair.