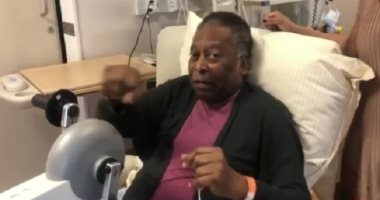 The smile was once again on the face of the Brazilian legend Pele during a physiotherapy session in the hospital where he had surgery to remove a colon tumor..
"Today, we have taken two steps forward," Pele's daughter, Kelly, said in a message posted on her official account on the social networking site "Instagram", and the author of the message included a video of the legend of Brazil practicing some physical therapy exercises..
Pele, 80, performed a series of exercises with his legs, and those around him asked him to do the same exercises, but with his arms, and indeed Pele responded to them and performed some exercises in his own way amid his smile and laughter around him..
Kelly shared a picture of his dad while a nurse was flying to him, and another picture of him smiling.
The daughter of the legend of Brazil and one of the best players in history said: "We share your love and messages to all of you".
While Pele was conducting some routine tests that he postponed due to the Corona virus epidemic, doctors suspected that he had a tumor in the colon, so he was admitted to Albert Einstein Hospital in Sao Paulo since last August 31..
Pele performed a successful operation on September 4 to remove this tumor, and spent several days in the intensive care unit, where he recovered well from this disease..
Despite this, days after he was transferred from the intensive care unit, Pele suffered from unsteady breathing, after which he was transferred to "semi-intensive care", according to the latest medical report..