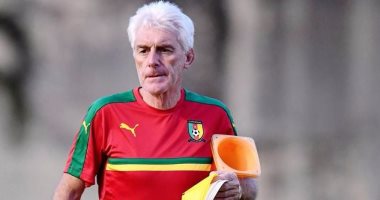 Belgium coach Hugo Bruce, coach of the South African national team, blew a heavy-caliber surprise at the press conference he held this afternoon, to announce his team's list in preparation for the matches against Ethiopia in the third and fourth rounds of the African qualifiers for the 2022 World Cup, and said that he was very upset about his inability to attend the match that Orlando Pirates hosted its counterpart Sun Downs in the league, which was held last Saturday, which the guests won 2-0.
"I am really upset that I was not able to watch the match live from the Orlando Pirates stadium," Bruce said in comments carried by the South African "News 24" website.."
He added, "My assistant and I were unable to enter the stadium, although we have a permit from the Football Association, but I was surprised by the security preventing me and they said no, this accreditation is not enough, and if I allow you to enter, I will lose my job."".
He continued, "I don't understand it, we are coaches for the national team, and there is a team that does not allow us to enter the stadium."
The Belgian coach added, "The most surprising thing is that Orlando club president Irvin Khoza is the vice president of the South African Football Association, I still do not understand what happened.."
And the South African list witnessed the exclusion of newly joined Al-Ahly Percy Tau due to injury, and Bafana Bafana is scheduled to meet with Ethiopia on Saturday, October 9, and then meet again in South Africa on Monday, October 11.
South Africa leads Group G with 4 points, Ghana and Ethiopia follow with 3 points, and Zimbabwe is at the bottom with one point.