It is natural to see flocks of birds or pigeons standing on tree branches, especially in the morning before flying in search of food, or at sunset in preparation for entering their nests before sleeping, but to see a whole flock of goats on tree branches, it is a rare and strange event.
And the British newspaper, "Daily Mail", published a strange video clip filmed by a person in Morocco, which monitors a whole herd of goats that climbed on the branches of a tree in one of the regions of Morocco.
In the video clip, a herd of goats is standing on the branches of a tree in a calm and steady manner, somewhat similar to a flock of birds, but with a large difference in sizes and sound of course, and the man who photographed this strange scene stood amazed by the strangeness of this scene, and said: "This is strange Something I've seen in my life, it's true, guys."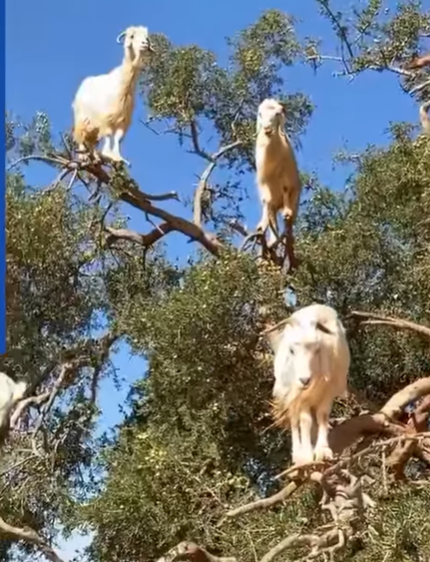 Goats climb a tree
It is worth noting that goats are strong animals that can withstand living in different environments, have graceful and strong bodies and are famous for their unique ability to climb.
In another context, the officials of Central Park in New York, America – earlier – resorted to the use of goats to solve a problem facing the huge park, in an attempt to avoid the use of chemical and mechanical means in the context of concern to protect the environment..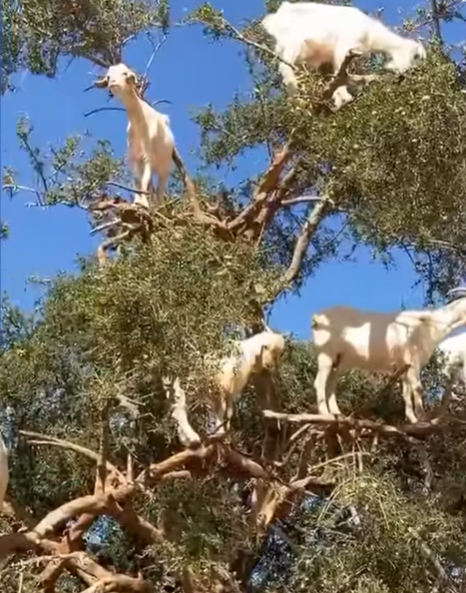 goats
Garden officials resorted to innovative ideas to preserve the natural life cycle, including the use of goats to combat the spread of harmful plants within the paths of Central Park in New York City, according to the Russian Sputnik agency.
A video clip published by the Chinese newspaper, "South China Morning Post", shows the participation of 24 hungry goats, eating harmful plants, the growth of which led to the acquisition of areas of the garden.