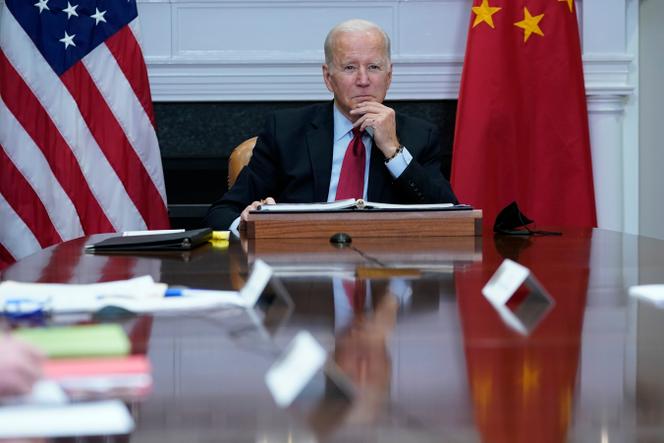 In his foreign policy, Joe Biden tries to draw a big picture: the struggle of democracies against the camp of authoritarian regimes, led by China. Fatally, this logic sometimes comes up against the test of facts, like the arms contract of 650 million dollars (579 million euros) with Saudi Arabia, announced in early November.
But it allows the White House, after the Trump era, to place the United States at the heart of a weakened orchestra, with sometimes dissonant notes, that of democracies, undermined by the Covid-19 and an incandescent polarization of the public debate. It is to this end that Washington has confirmed its intention to organize, on December 9 and 10, by videoconference, a summit of countries with a similar political model, open and pluralist to varying degrees.
This meeting was promised by Joe Biden during his electoral campaign in 2020. Large private groups and representatives of civil society must participate, but the video format and the number of speakers prevent real interactivity. The risk, identified by Paris for months, is that of a succession of rather abstract monologues. The publication by the State Department on November 22 of the list of 110 invited countries, which had been the subject of much speculation, in itself represents a political balancing act.
Read also
Article reserved for our subscribers

First tensions between Recep Tayyip Erdogan and the Biden administration
It was carried out on a case-by-case basis, according to geopolitical and bilateral considerations. Among the guests are countries such as Pakistan, the Democratic Republic of the Congo, Angola or Iraq, but not Turkey, a member of NATO. We also note the Brazil of Jair Bolsonaro, one of the incarnations of the wave of demagogues trampling the rule of law, but not the Hungary of Viktor Orban, his European cousin. Finally, the presence of Taiwan, whose independence is not formally recognized by Washington, is also a clear message of support sent to the island.
Critics of Moscow and Beijing
Unsurprisingly, Beijing and Moscow have reacted critically to the announcement of the summit and the guest list. "What the United States has done proves that the so-called democracy is only a pretext and an instrument to achieve geopolitical objectives, to suffocate other countries, to divide the world, to serve its own interests and to preserve its hegemony in the world ", said Zhao Lijian, spokesman for the Chinese foreign ministry. Beijing strongly opposes the invitation to its « province », Taiwan. In the Kremlin, spokesman Dmitry Peskov said Washington "Prefers to create new dividing lines" between states deemed good and others. "More and more countries prefer to decide for themselves how to live", he added, accusing the United States of"Try to privatize the term "democracy" ".
You have 32.02% of this article to read. The rest is for subscribers only.