The tongue is one of the most important organs inside the body, and its role is not limited to the function of taste and speaking only, but it is an alarm device that succeeds in detecting early signs of many diseases or lack of vitamins and minerals that your body needs.
According to a report published on the Express website, the color of the tongue gives great indications about your health condition, and through the following points we review how the color of your tongue can realize your health problems:
red tongue
When your tongue appears in this color, it tells you that you have a deficiency in vitamin B12 or folic acid, which is an important mineral for all internal biological processes, so you must take doses that contribute to increasing its levels in your body.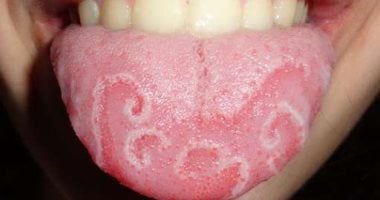 white tongue
It may be a sign of a bacterial infection resulting from smoking or an indication of a fungal infection called oral thrush.
blue tongue
It may be a sign of low levels of oxygen in the blood, due to lung and breathing problems, blood vessel disease, and kidney disease.
yellow tongue
It may be a sign of diabetes or psoriasis, and also occurs as a result of a bacterial infection that causes dry mouth.
geographic tongue
Here the tongue takes the shape of a map or geographical shape, and it is the result of infections resulting from an infection, so it is a sign of diabetes, stress or some kind of allergy.
Lumps on the tongue
This is a sign of scarlet fever, a bacterial disease that may result in heart disorders and kidney problems.