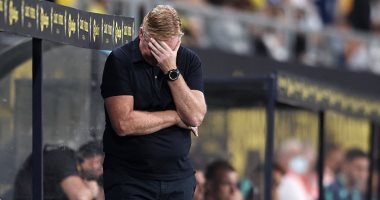 The future of Dutchman Ronald Koeman is unknown, and it is not yet confirmed whether he will remain in his position as Barcelona coach or not, after Barca failed to achieve his first victory in the group stage of the Champions League and suffered a severe defeat against Benfica 0-3 on Wednesday evening in the second round of the group stage competitions..
The Spanish newspaper, Mundo Deportivo, said that Barcelona president Joan Laporta had met with the Barcelona administration until four in the morning in order to talk about Ronald Koeman's future with the team..
The newspaper pointed out that the future of Ronald Koeman is unknown, especially since the president of Barcelona wants to resolve the coach's future as soon as possible, especially after the poor results of the Catalan club since the beginning of the season..
The newspaper indicated that there are 4 names of coaches nominated in front of Juan Laporta to replace Ronald Koeman, and they are Roberto Martinez, Andrea Pirlo, Xavi Hernandez and Marcelo Gallardo..
Barcelona is preparing for the next match, which will be on Saturday against Atletico Madrid in the eighth round of the Spanish League.