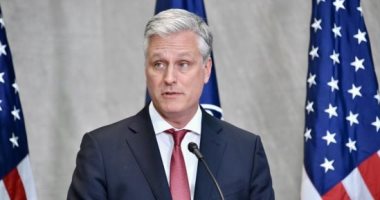 Reuters reported that US National Security Adviser Robert O'Brien cut short his visit to Europe until he returns to Washington to coordinate the response to the cyber attack, and the White House announced that the United States would "take the necessary steps to correct the situation in the wake of a large-scale cyber attack."
It is noteworthy that Reuters reported on Sunday that the US Treasury and Commerce Department had been exposed to a successful cyber attack by a group of hackers supported by another country. The Washington Post quoted sources as saying that the finger of blame was directed at Russian pirates, without any evidence supporting it. This hypothesis.
Kremlin spokesman Dmitry Peskov commented on this news, saying that Washington had ignored its proposals to cooperate in combating electronic piracy.
In press statements, Peskov said: "I can reject these accusations again, and I would also like to reiterate that it was President Putin who proposed to the American side coordination and conclude an agreement on cooperation in the field of cybersecurity and information security, and that would have allowed the two countries to cooperate in combating any crimes." "Cyber, any attempts of cyber espionage, etc. … But Putin's initiative has not received a response in the United States."
The Kremlin spokesman added, "If there have been some attacks over a period of months, and the Americans have not been able to deal with this problem, then perhaps that is not a reason for making naked accusations from the ground up against the Russians, we have nothing to do with it."
The Russian embassy in Washington described these accusations as "baseless."