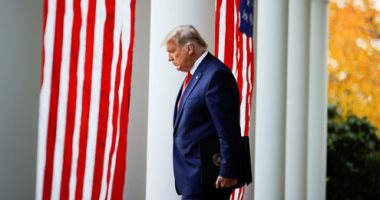 The Washington Post accused outgoing US President Donald Trump of using his powers to pardon, in order to reward his allies and undermine the prosecution.
The newspaper pointed out that among the dozens who recently received a presidential pardon from Trump, many who lied to investigators and obstructed a federal investigation about the president's links to Russia.
The newspaper pointed out that some had links with Trump or his most loyal supporters. Some Republican lawmakers were rewarded with supporting the president after betraying public confidence, while others violated their authority in more violent ways by killing and wounding unarmed civilians.
The newspaper believes that the list of those who issued Trump pardons or clemency decisions this week showed his willingness to extend his political power for the sake of personal gain, and to provide a favor to his friends while he seeks the support of Republicans in his faltering attempts to reverse his loss in the presidential elections.
And in a process that White House aides said had specific purposes, many of the pardon seekers ended up on the president's radar after conservative activists, television commentators or other friends of Trump made personal appeals on their behalf.
A recent wave of presidential pardons by Trump, which included father-in-law Jared Kushner, a former campaign manager and convicted murderers of Blackwater, which was founded by a longtime Trump ally, has prompted calls for constitutional power reform in the United States.
Russell Reilly, a presidential historian at the Miller Center at the University of Virginia, said that the wave of amnesty issued by Trump, which came less than a month before his departure from office, is the latest exploitation by him of his executive powers in ways that harm the spirit of the constitution.