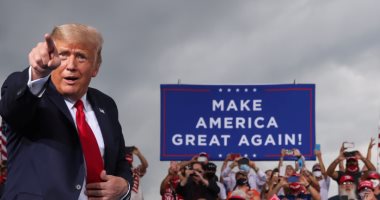 The Washington Post has said that President Donald Trump will have made nearly 30,000 lies by the time he leaves office in January, according to fact-checkers..
In its column on the verification of information, the newspaper stated that Trump had already made 29,508 misleading or false claims as of November 5, 2020..
The newspaper pointed out, that this number excludes almost all of his misleading statements alleging election fraud, which will definitely ensure that it exceeds the 30,000 mark..
The newspaper said that the president's lies escalated in October as the 2020 elections approached. Fact-checkers reported that he lied 4,000 times that month..
According to Glenn Kessler, who edits the column, his October lies were "twice what he said in the whole of 2017". Kessler indicated that this intensity continued despite the president's illness for a week after being infected with the Coronavirus during that month.
Then on the eve of the November 2 election, the president set his highest single-day record, telling 504 lies within 24 hours.
The newspaper said that from the start of his presidential term until January 20, 2020, Trump had told 16,241 lies. Kessler said the president was about to "double that in one year".
The newspaper pointed out, that the president's repeated lies, such as that he built the "greatest economy" in the history of the United States. The economy was better in the past under the administrations of Dwight D. Eisenhower, Lyndon B. Johnson, Ulysses Grant, and Bill Clinton. About 1 in 5 Trump lies about the economy or jobs.
The newspaper pointed out that the president was recently caught in an hour-long phone call with Georgia's Foreign Minister Brad Ravensburger about the elections.
The call – which was recorded and leaked to the Washington Post – featured the president making a series of allegations about the results of Georgia's general election.
The Georgia foreign minister retracted these allegations and ultimately refused to respond to Trump's claims, who asked him to find "11,780 votes" in an attempt to nullify the election result.