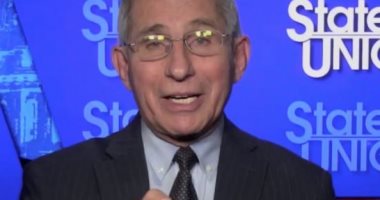 White House doctor Anthony Fauci said that the United States is heading towards the worst stages of the Corona virus pandemic in the coming weeks, as Americans see the effects of vacation travel.
Fauci, a member of President Trump's coronavirus task force, said he agreed with President-elect Joe Biden's warning that cases are expected to spike as families gather over the holiday season.
"Since we moved from late fall to early winter, the numbers are really worrying," Fauci added.
And he continued, before adding the Christmas encounters: "With more than 120,000 in the hospital, we are really in a critical stage. Although we advise otherwise, it will happen."
And he predicted that with the distribution of Corona vaccines from Pfizer and Moderna in the coming months, American health experts should see that the general population reaches significant herd immunity by the end of next summer.
"I think that will probably be in the middle of next summer until the end of the summer so I hope … by the fall we reach that critical percentage of people," Fauci said.
His comments came in response to a question about Biden's comments on the pandemic during a press conference last Tuesday, at which time Biden urged Americans to remain vigilant while adhering to social distancing and other measures during the Christmas holiday to stop the spread of the Corona virus.
Biden said, "Experts say things will get worse despite the vaccine … The average death rate is close to 3,000 per day. This means that we will lose tens of thousands of lives in the coming months, and the vaccine will not be able to stop that." So we still have to be vigilant. "