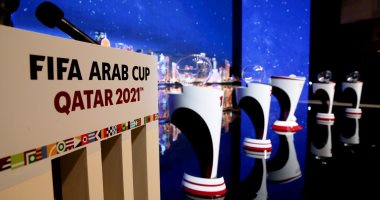 The Organizing Committee of the Arab Cup, which will be held in Qatar next December, announced that tickets for the tournament will be launched from tomorrow, Tuesday, as tickets can be obtained through the official website of the International Football Association "FIFA"..
The Egyptian national team will play in the tournament, which will be held from November 30 to December 12, in Group D alongside Algeria, Lebanon and Sudan.
According to the FIFA official website, tickets are available for all matches of the tournament, including the matches of two 2022 World Cup stadiums that will be revealed during the tournament, namely Al Bayt Stadium, which will witness the opening and final of the tournament, and Ras Abu Aboud Stadium, which will be the first stadium to be completely dismantled in the history of the World Cup..
Fans can attend two out of four matches per day during the group stage, as long as there are four hours between the start of each match, to give fans the opportunity to move to the stadium for the next match using public transport..
A variety of tickets are available at prices ranging from 25 QR for Category 4 tickets (for residents of Qatar only) during the group stage, and 245 QR for Category 1 tickets during the final match.
In light of the current challenges posed by the Covid-19 epidemic around the world, and in accordance with the procedures previously applied during the Club World Cup 2020, and the qualifiers for the Arab Cup 2021 last June; The host country will apply all safeguards; To ensure the health and safety of all participants in the competitions, and all attendees must adhere to the travel instructions issued by the Qatari authorities and the directives of the Ministry of Public Health.
More information will be published later on the website FIFA.com About the precautionary measures to prevent Covid-19 for entering the 2021 Arab Cup stadiums, and until today, ticket holders must obtain the full dose of one of the Covid-19 vaccines approved by the Ministry of Public Health in Qatar.