"When I saw her, I knew something was wrong. You know something is wrong.
"No, sir, I don't know.
"You know something is wrong!"
"No, sir, I don't know.
Up to 100 times Melissa Lucio defended her innocence in an interrogation that lasted five hours, until three in the morning on February 18, 2007. Two hours had passed since her two-year-old daughter Mariah had been declared dead. The intimidation of the agents extracted four words from him that were considered a confession: "I guess I did it." The jury that sentenced her to death believed that Lucio was guilty of the murder of her daughter. 15 years later, the team of lawyers that defends her maintains that the girl died of a brain injury two days after having accidentally fallen down some stairs and that "faulty evidence" was presented at trial that confused the jury. The lawyers have asked that the execution, scheduled for this Wednesday, be stopped.
Melissa Lucio, a Mexican-American, is now 52 years old. She has been at the unit in Mountain View, Texas for 15 years. In 2007, she and her 12 children – two more later born in prison – were moving to a new house in Harlingen, Cameron County. John, the third of her children, now 32 years old, remembers that the girl was in the care of her brothers that day. He was 17 and lived with his girlfriend at the time. "They saw Mariah fall down the stairs. They saw the accident, "she says from a hotel room in Gatesville, a town where the prison where Lucio is incarcerated is located. She wears a black t-shirt that she asks "Free Melissa" (Free Melissa); she constantly rubs her eyes because she hasn't slept for days, she holds her head in her hands. The baby, she says, "she went to sleep and didn't wake up."
When the emergency services arrived, the girl had bruises from head to toe. The forensic doctor who did the autopsy at that time believed that it had been a homicide, according to what she told in the documentary The State of Texas vs. Melissa Lucio, which premiered in 2020 and put the case in the media spotlight. In the same feature film, another expert assures that "the bruises are the result of a brain injury". Up to six specialists consulted by the defense to review the evidence have agreed with that diagnosis. The film also shows fragments of the interrogation of Lucio. A man yells at her, and she answers, slightly hunched, her eyes tired:
"I didn't hit my daughter. I'm not that cruel to my kids.
Like the rest of his siblings, John has always defended his mother's innocence. "My mom is not a child abuser. There is nothing in the Child Protective Service reports that says she has abused her children. She is a woman who would not harm anyone," he states. During the trial, the prosecution argued that Lucio had lost custody of his children on several occasions and that he had a history of drug use, but at no time did he present physical evidence showing that the woman hurt his children. The testimonies of children and adolescents were also not taken into account at that time. "They were supposed to give him the best possible legal representation and they wouldn't let us take the stand," laments John.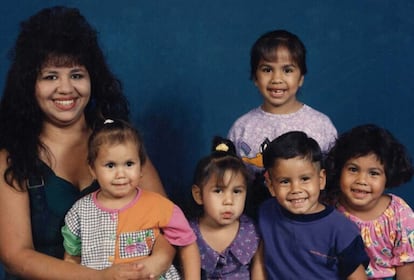 The team of lawyers representing Lucio filed a clemency petition with Governor Greg Abbott and the Texas Board of Pardons and Paroles at the end of March, and days later an appeal with the State Court of Criminal Appeals to stop execution and the case is dismissed or a new trial is instituted. The request offers new evidence with reports from doctors, a pathologist, a police instructor, a clinical psychologist and a neuroscientist that "refute all the elements of the accusation" against Lucio, according to his lawyers.
The brief has been supported by at least five of the jurors who convicted and sentenced her to death, including the president, who stated: "I was disheartened to learn that there was additional evidence that was not presented at trial. Knowing what I know now, I don't think she should be executed." In addition, more than 80 members of the Texas House of Representatives and 20 of the Senate, Democrats and Republicans, have sent letters to Governor Abbott asking him to stop the execution. Cameron County District Attorney Luis Saenz said he would do whatever it takes to keep Lucio from getting a lethal injection on Wednesday. The family even asked the Mexican president, Andrés Manuel López Obrador, to intercede.
However, so far "there is nothing standing in the way of this execution," one of Lucio's lawyers, Vanessa Potkin, told US media on Wednesday. The lawyer, a member of the Innocence Project, an organization that works to "avoid wrongful convictions," has represented Lucio since January. "If the district attorney would like to put a pause on this execution so that the evidence can be litigated in court, he could request it today," continued Potkin, who works with the entire team against the clock: "An innocent woman is on her way to death".
Texas is the third state with the most death sentences in the North American country, after California and Florida. In total, 199 people from that territory await on death row, according to the non-profit organization Death Penalty Information Center. Although in recent years, different States have abolished capital punishment, the measure still persists at 27. The number of executions has been reduced in the last two decades: in 2000 there were 223 and in 2021, 18. More than half of the Americans, however, continue to be in favor of this penalty, although eight out of 10 see "some risk" of executing innocent people, according to a Pew center report.
Since the late 1990s, 258 women have been exonerated, according to data from the US National Registry of Exonerations cited by the Innocence Project. 71% of women exonerated in the last three decades had been convicted of crimes that never happened. Lucio's defense is confident that the woman can be added to that list if Texas considers the new evidence presented by her lawyers.
The new evidence presented by Lucio's lawyers suggests that Mariah's death "was declared a murder before the autopsy began", when in fact it was "a tragic accident". Different experts believe that the woman "was relentlessly pressured and extensively manipulated" into confessing that she had hurt her daughter. The specialists also point out that having been a victim of abuse since she was a child – information that was not valued during the trial – made her "especially vulnerable" to "falsely confessing". The lawyers criticize that there were "gender biases" and "evidence was omitted." And one more fact they point out: the district attorney at the time, Armando Villalobos, was running for reelection that year and was looking for a "victory." That is why, according to the defense, he "seeked to set an example with the case of Mrs. Lucio." Currently, the former prosecutor is serving a 13-year sentence in federal prison for bribery and extortion.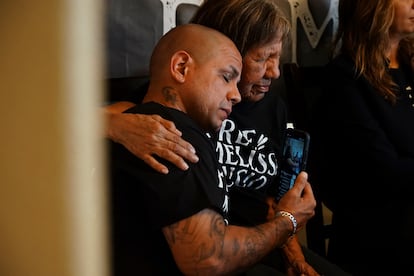 If the demands of the defense are not taken into account, Lucio will be the first Latina to be executed. John traveled 730 kilometers last Tuesday, almost seven hours by car, to visit his mother. "She is fine. She has a lot of faith, a lot of patience," he assures. Since her execution date was set for April 27, Lucio cannot spend the 30 minutes a day that she used to spend gardening. Now, the whole day is spent in her cell, which is constantly watched by guards to prevent her from attempting suicide. Her son assures that "it is not a risk".
John's idea of ​​the death penalty has changed. "I feel bad for the families of people who are on death row because my mom is there and it's painful," he explains. In these 15 years, his was "divided". After imprisonment, his younger siblings were placed in the care of other relatives. He left school and then work to dedicate himself completely to helping his mother. The legal team has now given him "hope": "They told me that there are many people supporting us to ask Governor Greg Abbott to get my mother out of death row." On Monday, he was informed, there could be a pronouncement. "We hope that the State does not kill my mother", he has requested, "we have already lost my little sister and losing my mother now would be too hard". During the most recent visit, Lucio told John that he is not afraid while he waits:
–If it happens, you have to know that I am at peace and you have to be at peace too.
subscribe here to newsletter of EL PAÍS Mexico and receive all the informative keys of the news of this country
Exclusive content for subscribers
read without limits