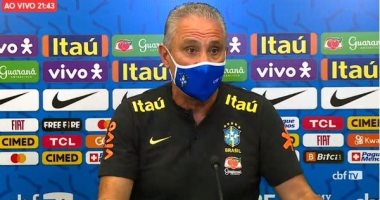 Tite, the coach of the Brazilian national team, confirmed that the confrontation of the Argentine national team is always different, before facing the two teams on Sunday evening, in the match that will be held at the Arena Corinthians in Sao Paulo, as part of the matches of the postponed sixth round of the South American qualifiers for the World Cup finals. 2022.
Tite said at the match press conference On the absence of the English Premier League players: "I hope that there is common sense so that we can work on preparing the Brazilian national team and preparing all the South American teams well. There is a disparity and we are not ready. We do not have the same conditions as preparing for the World Cup. .
He added: "I see that there should be equality for all teams, this is harmful not only for the preparation of Brazil, but for all the South American teams that will not be in the same preparation for the World Cup compared to the European teams."
And about the Argentina match, Tite said: "I learned and grew up that the Brazil-Argentina match is different, there is no point in hypocrisy, and half-words, you have to compete with those you admire."
He concluded: "When you play Libertadores against Boca Juniors, River Plate, Racing, the atmosphere is different, you just have to stick to more calm and balance because the match itself moves you, it's adrenaline."
Brazil enters today's match, and is at the top of the qualifiers with 21 points, from winning all its previous seven matches, while Argentina is in second place with 15 points from winning in 4 matches and drawing in 3.