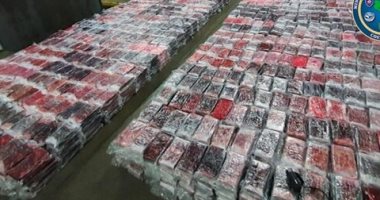 The Belgian authorities seized a record total of drugs, especially cocaine, and that exceeded 65.48 tons in 2020, most of them from Latin America, as the Belgian port of Antwerp is the first entry point for this type of drug to Europe, according to the Argentinian newspaper "Nacion".
The newspaper pointed out that the Belgian authorities confirmed that the quantities of drug seizures, especially cocaine, doubled 14 times from 2013 to 2020, and the total seizures exceeded 62.10 tons in 2019.
Colombia is the main point of origin for cocaine that was intercepted in Antwerp, followed by Brazil and Ecuador, in Europe, and Belgium is the main destination for drug shipments, ahead of Spain and the Netherlands..
From these three countries of arrival, cocaine is distributed throughout Europe, and is usually diluted to "60% purity". So, those 65 tons of cocaine would be worth about 7,500 million euros on the streets.
The port of Antwerp is the second largest port in Europe after Rotterdam in the Netherlands, and according to the United Nations, another 25 tons of cocaine was seized destined for Belgium in the countries of origin..