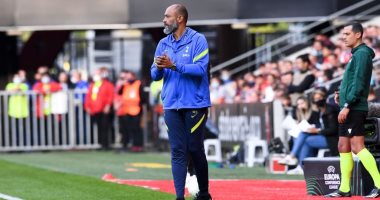 Tottenham Hotspur coach Nuno Santo confirmed that the 2-2 draw against Rennes was not good at all, in the match that brought them together this evening, Thursday, at Roazone Park, in the opening of their group G campaign in the group stage of the Premier League. European conference.
In statements after the end of the match, Santo said about the injury of some of his players: "It was horrible. We don't know if they were fit, but they are rough interventions and things are not simple."
He continued, "Rennes is a very difficult team, but the handling was rather good with a lot of players playing outside their positions, but overall it is difficult to judge correctly the performance of the players.".
On the past international break, the coach noted: "It was horrible, I have to be honest, let's not hide behind anything! After the Watford game, everything that happened wasn't good for us, but this is football.. and we know it's A moment we have to overcome."
He continued, "Today, we tried to show the players solutions by thinking about the match on Sunday against Chelsea, but it is about overcoming the obstacles, and this will make us stronger for the future for sure. We scored, and then we lost control of the game, we played as a good team, many players played They are far from their positions, but they have done fairly well."
He concluded, "We achieved a point in front of many obstacles. This is not good at all. A point is not enough. We have been fighting to find solutions."
Tottenham

The goals of the match were scored by Loic Badi (an own goal) and Beira-Emile Hoeberg in the 11th and 76th minutes, respectively, for Tottenham.
Flavian Tait and Gaetan Laborde scored the goals for Rennes in the 23rd and 72nd minutes, respectively.
With this result, Tottenham are third in Group G in the European Conference League with one point, after drawing with Rennes, who is in second place.
The Dutch team Vitesse Arnhem topped the group standings with 3 points, after beating away from the ground at the expense of its Slovenian counterpart, Mora, with two clean goals.