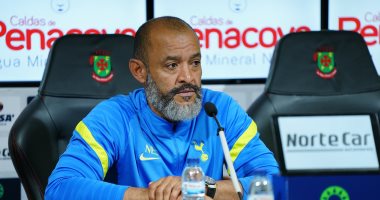 Tottenham Hotspur coach Nuno Santo talked about the upcoming match against the Slovenian team Mora, which will be held on Thursday in the second round of Group G of the European Conference League.
Nuno Santo said in the match press conference about the style of play: "I have heard about the Tottenham method, in football everyone wants to play well and play good football, this is what we want and we have to build on it."
Nuno Santo added about the criticism: "I'm not worried about it, what worries me is how we can play better. Judging and criticism are part of the game and we have to deal with it. I'm very simple and I'll tell you, my focus is how we can improve."
"It is not the time to ask the fans how we play, they just have to encourage us," the Tottenham coach stressed.
"No, because we know that's football, it's about the way you react to bad moments, it's something you can't avoid every team that goes through these periods," Nuno Santo said on whether he was feeling the pressure.
"History says sticking together is the only way to get through the crisis," the Tottenham coach stressed.
In his question, what did you learn from the last period? The Tottenham manager said: "A lot, from day one we get to know each other, we know our strengths and our weaknesses and we strive to improve them.
In response to: Is training Tottenham more difficult than you expected? Nuno Santo emphasized: "There is nothing easy in football, we coaches, every coaching task is difficult."