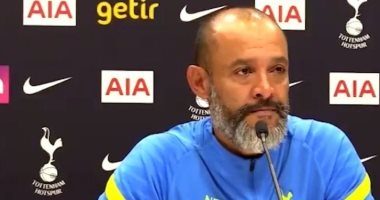 Tottenham Hotspur coach Nuno Santo confirmed the absence of South Korean Heung Myon Son from participating in the matches for an indefinite period, before facing Crystal Palace tomorrow, Saturday, in the opening round of the fourth round of the English Premier League.
Son was injured with the South Korean national team in training before facing Lebanon last Tuesday in the 2022 World Cup qualifiers.
And Santo spoke at the press conference for the Crystal Palace match, about Son's injury: "Like some of our players, he came with problems during the international break, Son is not feeling well, let's wait until the club makes the announcement, is it a long-term injury? I don't know, let's wait Doctors will do the analysis".
As for the Argentine national team, Christian Romero, Lo Celso and Colombian Sanchez, Santo confirmed that they will arrive the day before the Chelsea match next week, so they will not be available for the Rennes match in the Champions League.
And about newcomer Emerson, he said:He's very talented, we signed him because we think he can help us, he's an attacking full-back and we know he has things to offer.".
And about the Frenchman Ndombele, the Portuguese coach said: "There Compete for tomorrow's match but everyone is being evaluated, Tongai is here and our player, let's try to take advantage of him, all players are very important! We want to give their best".
On whether he had spoken to Ndombele since the Mercato closed after the player wanted to leave, he said: "We talk to all the players, we talk to them, it is normal .. It is part of our work, it is the way we work, dialogue is the main thing for us." ".
And about the problem of a player on the red list during the downtime, he said:Suddenly it can happen with European players, so imagine that England internationals can't be in the national team, because they They're going to a country that's on the red list, it's a big problem".
On receiving the Premier League Coach of the Month award, he said:The award is not individual, it belongs to all the technical staff and the players who presented themselves in the matches."
Tottenham Hotspur is at the top of the English Premier League standings with 9 points, winning all the previous three matches.