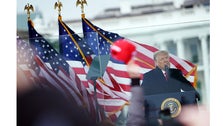 Former President Donald Trump knew his supporters were armed with weapons during the Jan 6, 2021, Capitol attack, but insisted they be allowed to watch him speak before the riot.
"I heard the president say something to the effect of, 'I don't f-ing care that they have weapons. They're not here to hurt me. Take the f-ing mags [metal detectors] away. Let my people in. They can march to the Capitol from here,'" said former White House aide Cassidy Hutchinson.
The new explosive testimony was aired during a surprise hearing on Tuesday. Hutchinson recalled that Trump had been informed by Secret Service that his supporters had brought weapons to his rally shortly before the attack on the Capitol. Those weapons included bear spray, spears, guns and flagpoles used as weapons.
Trump, however, was apparently fixated on the crowd size and demanded more of his supporters be allowed to bypass metal detectors to watch him speak, Hutchinson testified.
This is a developing story. Check back for updates.