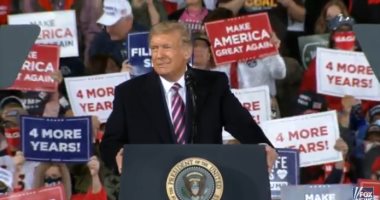 US President Donald Trump returned early from his resort in Florida to Washington, DC, after he was scheduled to attend a New Year's Eve party at his Mar Alago resort there, according to "Russia Today." .
The White House published a New Year congratulatory message from Trump, praising the achievements of his administration, which included confronting the Corona virus and rebuilding the economy..
He added that the United States produced a vaccine to prevent the Corona virus in a record time, and that he was correct in expecting the vaccine to be launched before the end of the year..
After returning to the White House, Trump ignored reporters' questions about Iran and whether he would attend Biden's inauguration on January 20..
The White House did not provide a reason for Trump's early return to Washington, but it coincides with his battle with Congress for using his veto power to block the defense policy bill and his demand for increasing the value of stimulus checks in the face of the consequences of the Corona pandemic in addition to the escalation of tension with Iran..
The Republican president still refuses to acknowledge his defeat in the presidential elections to Democrat Joe Biden, and is seeking in vain to cancel the election result..