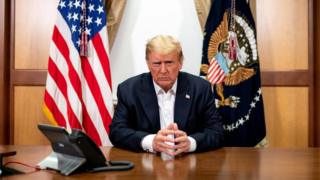 US President Donald Trump says he will be released from hospital later on Monday, four days after being admitted with Covid-19.
Just before a scheduled briefing from his doctors, Mr Trump tweeted he would be leaving at 18:30 (22:30 GMT), adding that he felt "really good".
But questions remain over the seriousness of Mr Trump's illness after a weekend of conflicting statements.
The true scale of the outbreak at the White House remains unclear.
"Feeling really good!" Mr Trump tweeted.
"Don't be afraid of Covid. Don't let it dominate your life. We have developed, under the Trump Administration, some really great drugs & knowledge. I feel better than I did 20 years ago!!"
There are more than 7.4 million Covid-19 cases in the US and the virus has killed nearly 210,000 Americans.
The president's discharge comes as more new cases have been reported among White House staff.
At least 12 people close to Mr Trump have now tested positive, as have several junior staff members.
Many of these people went to an event at the White House Rose Garden on 26 September that is now being scrutinised as a "super-spreader event".
The White House has not revealed how many staff members have tested positive since Mr Trump's own diagnosis.
Press secretary Kayleigh McEnany became the latest high-profile figure close to the president to confirm a positive test earlier on Monday.
First Lady Melania Trump, senior aides and several Republican senators have also tested positive.